There are several options in the market when you are searching for the best filters for turtle tanks. But the thing is to identify the most eligible one for your use as turtles are reptiles and comes in an aquatic form; that's why they require a healthy and clean environment.
Aquatic turtles create much mess so that a large and convenient filter would be perfect for their comfort and health. A small one may cause troubles and inconvenience, including smell and suffocation.
There are two options in terms of this tank; external canister filters and internal water filters. The filtration process depends on biological, mechanical, and chemical filtration to regulate and clean the water in the tank.
Importance of Filters in a Turtle Tank
If you have a turtle tank, you might know how smelly and messy it becomes if you aren't cleaning regularly, and that's natural for them. These filters use to make the process easy. It reduces most of the problems that pop up in a tank.
There are multiple filtration processes; most notably, the mechanical one removes the solid stone-like gunk that includes turtle excrement, fungi, bacteria, and surplus food in the tank.
Overall, the best part is that the filter ensures to make your water look clear enough, minimize the smell, and regulate water flow with a given size.
Setup of a Filter for Turtle Tanks
Measurements are usually neglected in such things, but it is essential to measure your turtle and the tank so the filter won't cause a problem. The filter's capacity should be large enough for a good flow of water. The more power, the higher the cleaning environment it would become for turtles.
Fill it with a good amount of water so that the filtration would not interrupt turtles' swimming. The depth should be strong enough.
People sometimes misunderstood the requirements and place pebbles or gravels in the tank, which is not normal at all as it causes major hurdles for the filtration and unhealthy for turtles.
Best Filter to Use for Turtle Tank
Let's get straight to the point. Right now, canister filters are considered one of the best in all for turtle tanks. Investments at the right time are life-saving; make sure that you are buying the right one in all terms.
Canister filters come up with the most delicate filtration process with external units, as they are quick enough. They cover extremely small space, making it more convenient for turtles, but they require a big budget.
Turtles are known to produce a huge mess. Keep in mind if you avoid this essential part, it may get them sick. Big aquarium filters are also good to go. They mostly come up with biological and chemical filtration.
While choosing the aquarium one, make sure that you are having 2 to 3 times bigger than the turtle tank measurement. Let's say if you have a 40-gallon tank, and then buy the appropriate one for an 80-120 gallon tank.
Related Also: Can Turtles Live In An Aquarium With Fish?
10 Best Filters for Turtle Tanks Review
As per the above discussions now, you may get a clear and comprehensive idea for facts and figures that are needed to be considered while buying one. Further, we have some reviews of our chosen products for better decision ahead.
1) Fluval FX4 Canister Filter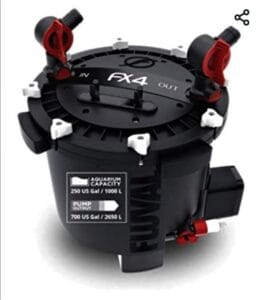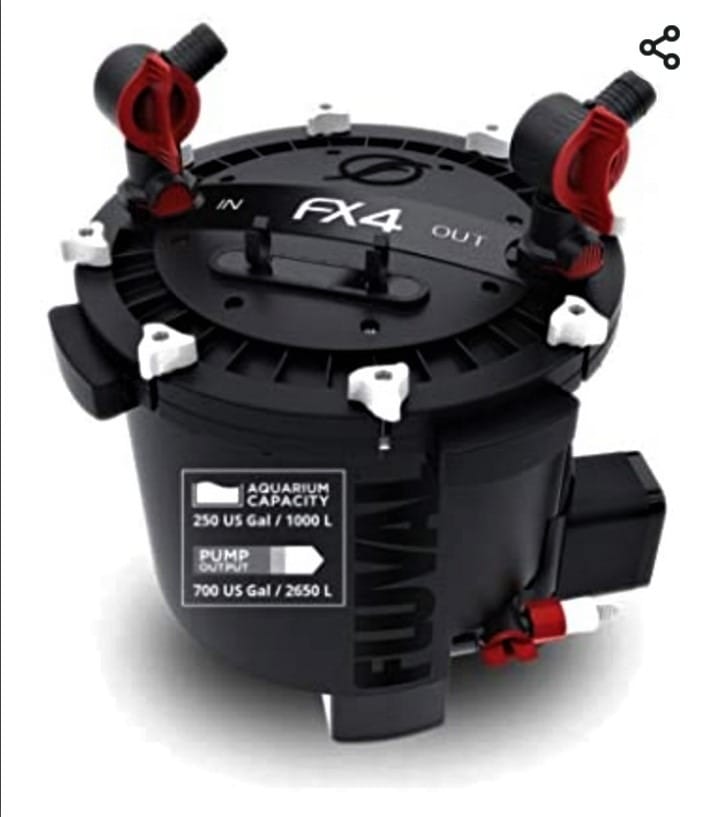 Fluval Canister Filter product is considered one of the finest filters with multiple features. The performance rate is highly appreciable, with a large capacity of 700 gallons of water. If you have done any research regarding filters, it has a high chance that you may come across this well-known brand.
Let's be straight, this is one of the best products with high durability and convenience, but the only drawback is that it is costly that may cause a burden on your pocket but if you are ready to invest big for commendable results, then go for it.
A major requirement is the baskets in the filter. It comes with 3 of them known as mechanical, biological, and chemical, making the entire process efficient and easily separates media of all sizes. The water changing system is quick because it has a pump and hose that automatically changes the water without any manual effort.
Its microchip helps to improve the overall performance according to the level and requirement of water which consumes very little time and power.
The best part is the easy maintenance; if the tank is around 220 -260 gallons, that usually is, then it can remove all types of dust, particles, and any waste quickly because it can work through 700 gallons of water in each hour.
Pros
1. Continuous water flow through strainers
2. Reliable baskets for media
3. Pumps 700 US Gal of water each hour
4. Microchip for performance enhancement
5. Convenient installation
6. Hold up to 1 US Gal of media at the time of elimination

2) Magniflow Canister Filter for Turtle Aquariums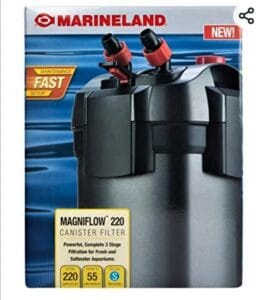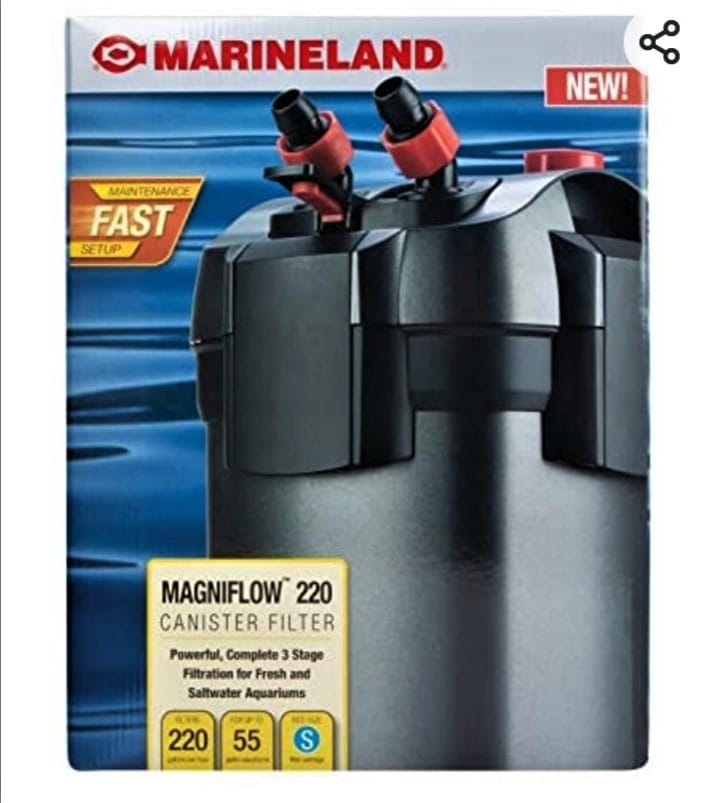 The size and measurement of the Magniflow filter allow accommodating it with almost all kinds of tanks. As it is multi-faceted, this makes the usage convenient. Marienland is one of the best companies out there in the market when it comes to quality. 
They assure you deliver top-notch features at affordable prices so that everyone can get their hands on this efficient product.
The best feature is that it works efficiently to make the water look crystal clear. It continuously works for its regular movement as it has a polishing filter pad that ensures to eliminate the discarded material. For better filtration, it comes with a 3-step process. This aquarium provides the best water flow bypassing every stage. It even removes the tiniest unwanted material.
It has mechanical filtration constructed from cotton-type pads to absorb or collect a good quantity of waste. Water remains clean for a longer time this way. The installation and setup of this filter are not easy. It has stated efficiently in the description. But according to experience, it's a bit tricky and complicated.
This filter comes with small balls that are biologically approved to kill any bacteria and remove fungi in water that helps to keep turtles safe and healthy. It allows ammonia to increase as well. To avoid smell yellowish in the tank, it has an activated carbon sack/container that eliminates bad smell in no time.
Pros
1. The 3-step efficient filtration process
2. Affordable price
3. Durable quality
4. Works great to enhance water clarity

Cons
1. The adjustment and installation is not convenient
3) Aqueon Quiteflow Internal power filter, 10 Gallon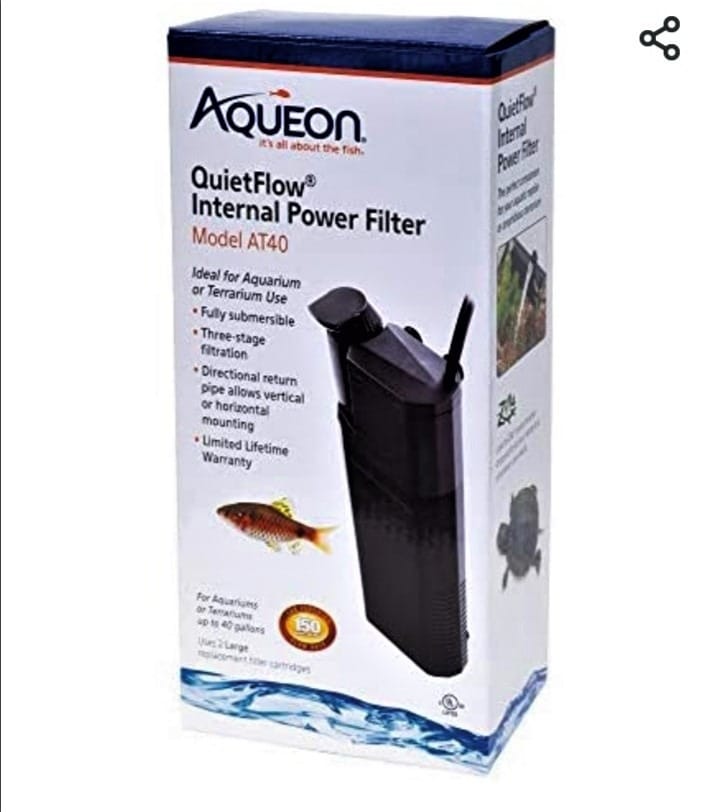 This product is there to assure the quality of water. Turtles are mess producers, but they can have beautiful and odorless living if water is clean enough. 
The chemical filtration in this relatively low comprises activated carbon. This carbon eliminates emerged biological matter efficiently, and waters look so fresh and deliver vibrant vibes. Overall, the cleaning process in Aqueon'sfilter is quite satisfactory as it comes with 4 filtration levels.
As usual, a top-rated product also has chemical, mechanical, and biological filtration. The tiny particles or remaining food items in the tank can easily remove from these filtration procedures.
This product comes in a quantity that varies from 10 to 40 gallons, and it supports everyone with 155 gallons each hour productivity rate. If we look at its noise or sound part, it doesn't have any. It is tranquil through which you can easily place it in your lounge, and it won't disturb you at all.
The other impressive thing is that it has an automatically continuous system. If you cannot supply electricity for some time, the filter won't stop and continue working. So, don't worry in that case. The drawback is that it has a small size compared to others, which causes some issues like you have to refill it again and again. 
You are bound to have at least 2 to 3 filters at once for an average size tank. The size is compact, whereas it should be inexpensive. But it demands a good amount of money which is 70% worth it. If you are concerned about the cleaning, then that is more than perfect because of several filters.
Pros
1. Four-level filtration availability
2. Silent feature can place anywhere in the home
3. Activated carbon with improved water flow
4. Multi-way nozzle

Cons
1. It comes in small size
4) Penn Plax Cascade CCF3UL Canister Filter for large aquarium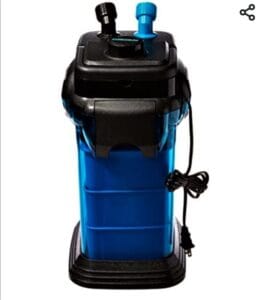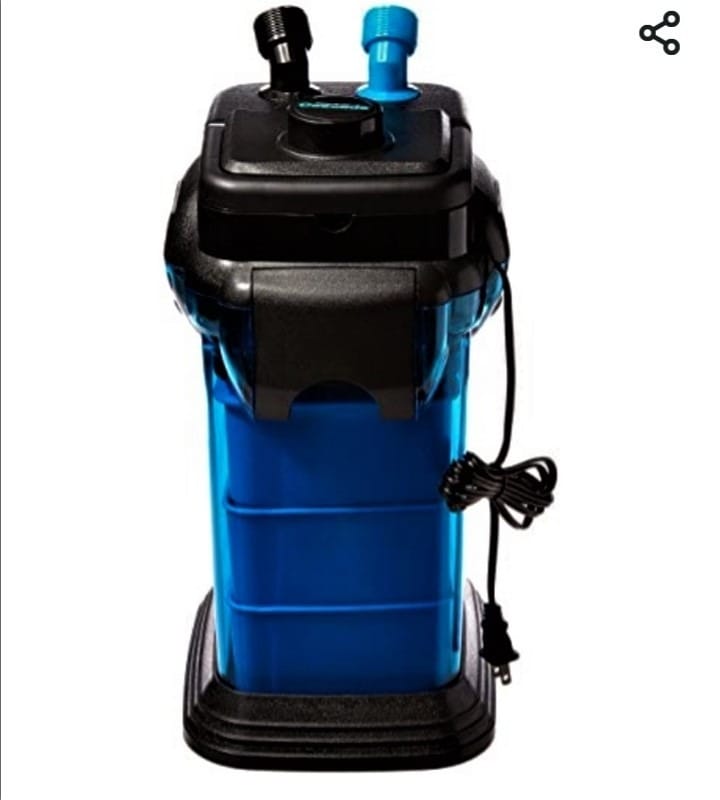 As mentioned before, Canister filters are considered the most reliable and efficient ones right now in the market. The same goes for this cascade. It is highly proficient in the way it works.
The filters that are compatible with larger tanks are the most appropriate ones, which is one of them. It comes in a range that varies from thirty to two hundred gallons, so it easily adjusts with large turtle tanks.
Many characteristics make it more accomplished than the other best filters for turtle tanks in the market. The productivity and rate of flow are somehow unreal as it comes with 350 gallons of rate each hour.
You can choose to move the media trays as they are adjustable according to the requirement. You can control your filter; if you're a bit experienced in it, it would be more convenient. A contrast of biological and mechanical filtration is also there if it is essential to carry on the system in the tank.
It could be difficult to handle for those who are not experienced in aquariums, and the other worst thing is that it comes up with highly irritating noise, and there isn't an option to make it slow.
Overall, it is well-built and strong enough to resist for a longer period. It has rigid plastic at the outer portion to protect it from any mishap.
Pros
1. Appropriate for big size tanks
2. 360 degree round up option
3. 350 US Gal rate of flow each hour

Cons
1. Extremely loud
2. A bit technical

5) Tetra Whisper Ex Silent multi-stage filter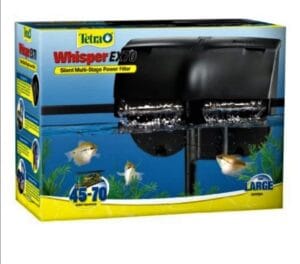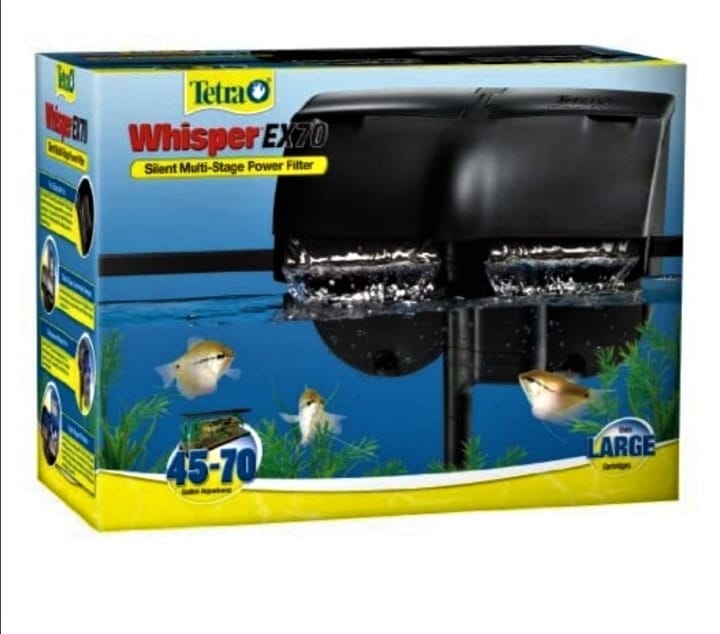 Tetra Whisper multi-stage filter belongs to a company known for its reliability and top-notch quality, but how is this product helpful for your turtle tank.
According to experience, it goes best for the tanks that come under 70 Gal. But if you have a larger tank, it won't be able to reach out at the top of the tank. Yes, it is suitable for smaller ones but not for the bigger ones. Even it gives results beyond expectations for the compact sizes as it can work better in less time.
The most interesting part is that it does not sound a bit highly smooth and calming to have one. Also, the rates are very cheap, so you are not bound to pay huge in return for relevant results. So, please don't go on its size or speed; the work quality is proficient.
For your comfort, it comes with a time strip attached nm the filter, which will help you know when the filter needs to be changed. In this case, you don't need to worry about its changes or period. Just follow the strip.
The multi-stage filtration makes sure that the water stays clean and in movement so that it doesn't produce any smell or problem.
Pros
1. Extremely inexpensive
2. Productive flow rate
3. Anti-noise system

Cons
1. Goes for only smaller tanks
6) Fluval G3 advanced filtration system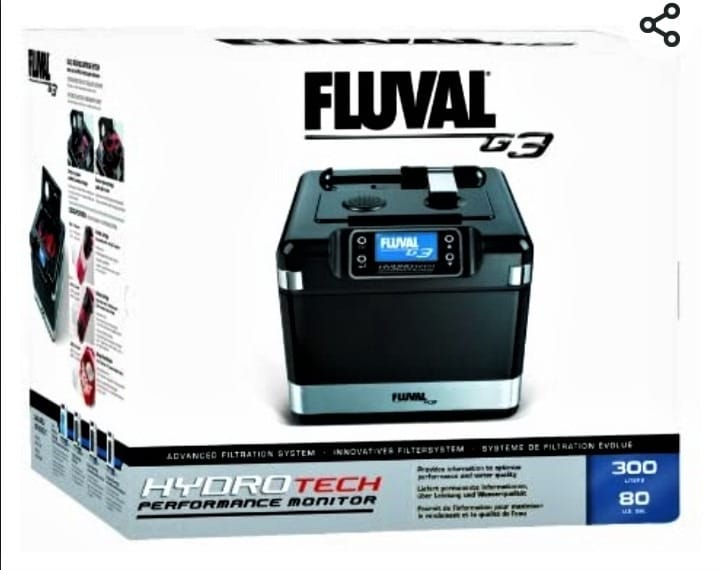 Our ongoing list of best filters for turtle tanks is one of the most expensive products, but it is worth it in most cases. It comes with various characteristics and tricks, and twists to make it more interesting for the users.
It won't be wrong to say that this product is specifically made for aquarium lovers, those who love to play with multiple features and take an interest in it, as it is a bit techy.
Smooth display on the external area; they have used an LCD for it. This gives you access to the inner product of the filter. You can check the flow, degrees, and whatnot.
The sound of the filters is disturbing if it's there, impressing it has explicitly made not to produce any sound for a smooth experience. Also, the mechanical filter in the product eliminates the tiniest waste or unwanted particles from the tank to that promotes a safe environment for turtles.
The ease of maintenance is at a good point in this feature. You can check the temperature and make the changes according to the requirement. Of course, this comes in the latest characteristic and also the one which is high in demand.
Even it informs you when it is needed to be clean and purified, which makes it super convenient and hustle-free. It has 2 adjustable trays in its filtration system. They have constructed to use for chemical and biological media processes.
Pros
1. Available in multiple sizes
2. Easy maintenance
3. Very quiet
4. 2 filtration media trays
5. LCD at the front side

7) Tetra Fauna Reptofiller 50 Gallons Terrarium filtration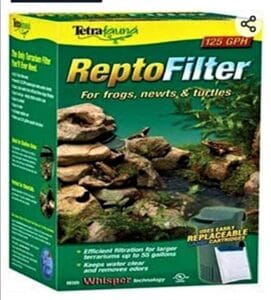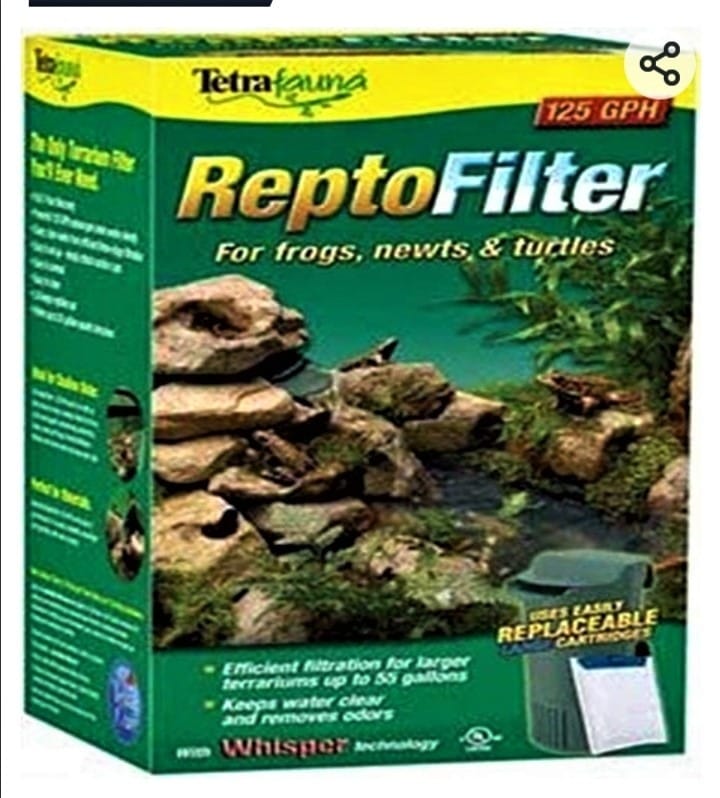 It is an internal filter of Tetra Fauna Reptofiller, one of their rare and compatible products. It has constructed for the tanks that have limited water flow and level.
The filtration process is not that good. You will need to change the water every 2 to 3 weeks because it does not accommodate biological filtration. You can remove hard dermis easily from your water tank.
The size is small enough and gets easily fits in all types of aquariums. The calming part does not produce any sound, and you can place it anywhere in the house where you want. The price is also very affordable with efficient and reliable features.
If we look at its size, it takes only 0.6 inches above the bottom of the tank. You have to place it in the mid of your turtle tank. The productivity and rate of flow are precisely 50 gallons each hour.
It works in the way as it gathers the water to the upper level, throws it back, and gives an outpouring effect. Honestly, it provides super pleasing vibes.
Now, you have known the size and features, so make sure that the filter is fully dipped in the water; otherwise, it will affect its motor, and it may get off.
Pros
1. Anti-noise feature
2. Appropriate for low-level turtle tanks
3. Very affordable
4. Dense in the size

Cons
1. The motor is sensitive, so be careful
2. The filtration process is not vast enough 3. Accommodate 1 or 2 turtles at one point

8) Decorative Reptofilter for turtle tanks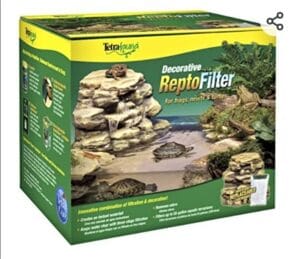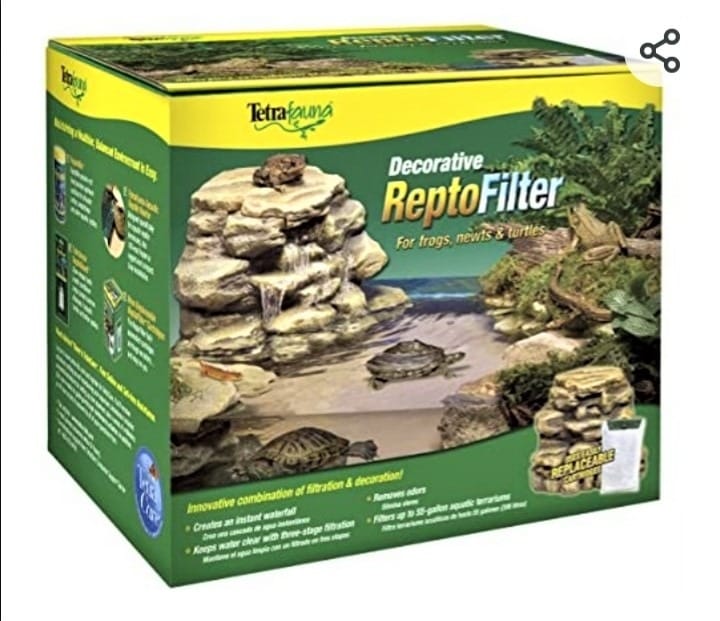 Reptofilter for turtle tanks comes with multiple features. These are also additional rare consistent characteristics. For turtle tanks, it has declared the most suitable one by professionals because it understands the sensitivity of our pet.
Like most of the ones, it also comes with a 3-level filtration process. One thing is sure that no waste remains in the turtle tank. If you have read the description on the site, you might think it is not appropriate for use.
So, please don't go on its size. It is very competitive with its other fellow products right now. The cleaning process is so strong enough that it even quickly eliminates the unacceptable smell.
This allows only having one or two turtles in the tank as it doesn't support big aquariums. Whether they are one or two, the main thing is sure that there will be much debris. This works efficiently to do all the essentials that a filter is asked to do.
It works beyond its size. The catchy thing is that it has a waterfall-like view when the water from the upper level falls at the time of pumping. The rigid rock gives such realistic and pleasant vibes that it becomes difficult to recognize for the third person, either natural or fake.
Pros
1. Supports up to 55 Gallons in the tank
2. Rigid rock
3. Multiple and efficient filtration system
4. Provides enriching and vibrant surrounding

Cons
1. Low maintenance
2. A bit extra small in size

9) Penn-Plax Cascade 600 Submersible Aquarium filter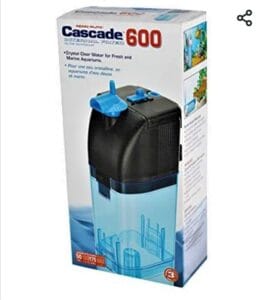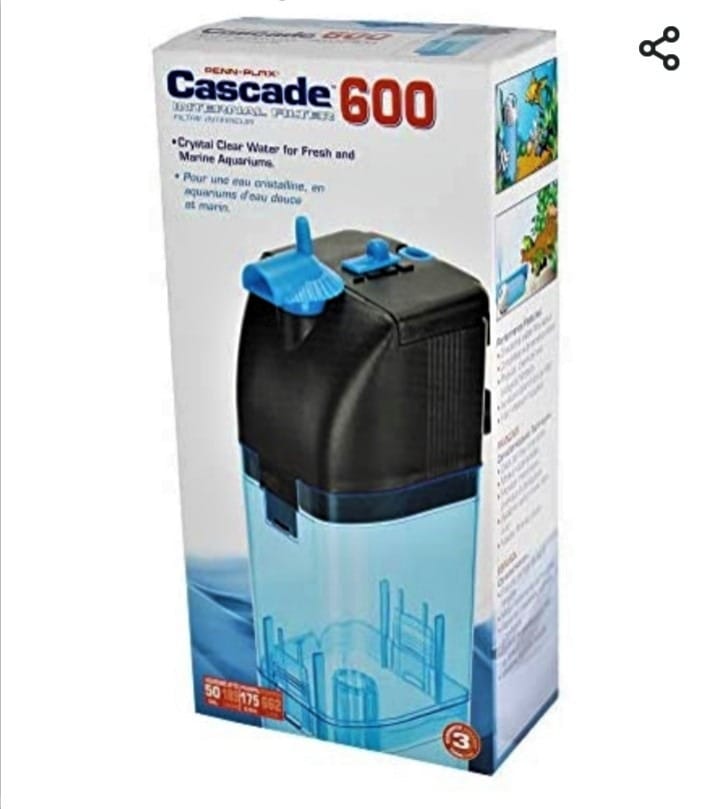 This filter has a medium quality with the cheapest price. Other than pros, it has substantial benefits for excellent and durable use.
The best part is that it has a requirement accordingly for the adjustable rate of flow. You can directly receive it from the pump. The good thing is that it reduces the pressure on the filter at the times of its functionality. Overall, construction is well-built and strong to resist for a longer time.
Penn-Plax Cascade is a submersible filter with six hundred cascades that is not familiar to the rest of our mentioned products. The working ability varies 50 gallons size of the tank to 175 gallons operating on each hour.
The water cleansing or high-quality purifying can't be assured as it does not come with that feature. Bad smell can become an issue with a noisy system.
So think before having it, if you can go with these minor issues, then it could be a great option at an extremely affordable price. Little footprints are also there, while filtration helps a bit.
Pros
1. Cheap price
2. Sturdy construction
3. Productivity of water flow is adjustable

Cons
1. Bit Noisy
2. The cleaning process is not cool

10) Penguin 350 BIO-wheel power filter by Marineland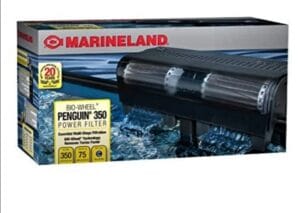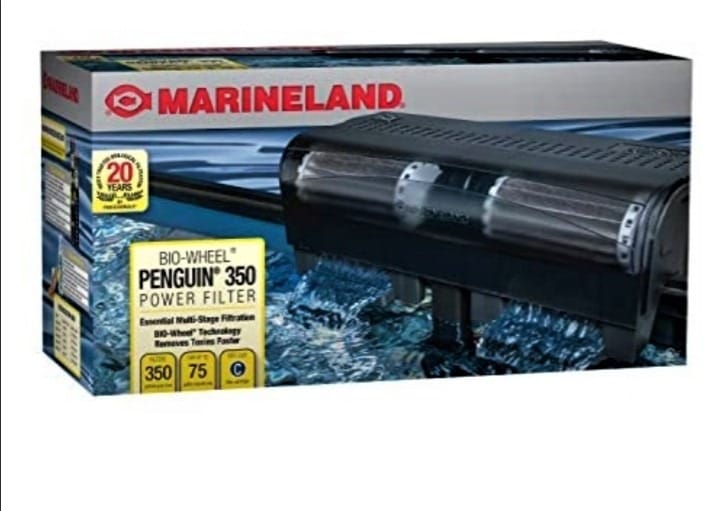 As shown in its name, it is some unique than others cause it comes with BIO-wheel power that supports a super level of filtration.
Off-course, for the finest filtration, you are required to have a multiple-stage filtration process as well. This product comprises biological, mechanical, and chemical filtration by which the step-by-step filter makes it free from all kinds of debris and waste of turtles.
This brand Marineland is one of the strongest yet in-demand products due to its quality.
It is very affordable and comes in a compact size. After experimenting with it, we are so impressed with how it works and regulates the entire filter with durability and strong power impact. The quality shows that it can support 75 Gal's in size, and 350 Gal's would be able to use in the tank every hour.
The one irritating part is that it has cartridges which sometimes aren't a great option to use. It causes some problems as well during the filtration process.
Related Also: 5 Best Filter for Aquarium
Pros
1. Water remains crisp and clear
2. Cheap in price
3. Long-lasting
4. High productivity rate

Cons
1. Size can cause difficulty
2. Adjusting can cause problems
3. Cartridges aren't the latest in it

Buying Guide on Best Filters for Turtle Tanks
So now, as you have read the entire article regarding the Best filters for turtle tanks. After all the specs and details now, you might be ready to take the final decision on your product. However, we have explained every product in detail with its pros/cons and other specifications to help you make a better and uncomplicated decision.
To further assist you, we have concluded the more essential details with a guide. This buying guide will help you out with basics, so please look at it below. What feature you should keep in your mind to look upon when you are purchasing a particular product.
Rate of Flow:
The flow rate should be good enough in a filter so it can provide top-notch results.
The better it is in the product, the more expensive it would become, but it is worth it. Think about your budget and buy the one which suits both your pocket and quality.
This is the power per hour, and it shows the resistance that how fast it works per hour. The more it can get done each hour, the more beyond belief the rate would be.
Size of Tank:
This is one of the most avoided characteristics but is very important to check upon. Your and your pet's entire experience would depend upon it. So do not forget to review it if suitable for perfect flow and other specifications.
If you have a tank that is sized 60 Gal's with 3 small turtles in it, of course, they will produce a mess, and you'll need to fix that up by applying a suitable filter with the right size.
Every product in the product won't support your requirements, so make sure to do good research and buy the correct one with the best size limit.
Maintenance:
The quality of the best filters for turtle tanks is only durable if it is convenient to maintain. Try buying one that comprises reliable and easy maintenance. So, choose wisely!
If the filter comes up with the cupboard system, you can waste the previous media and use the new one. This helps the owner with easy maintenance.
The other optional but effective part is that you can have two filters rather than one at the same spot. That means you are not supposed to empty the entire tank, pause the one, clean it, and then do the same for the other.
How frequently should the filter in the turtle tank be refreshed?
As the filter regulates the water continuously, it looks clean and clear. But after every 14 to 18 days, it should get a refresh. Otherwise, it would fill up with unwanted bacteria and fungi.
Just clean the entire tank allows some air to pass through it. However, a product usually found in every home is vinegar, which goes excellent for its cleaning. All you have to do is apply and leave it for some time and use any sponge to rub off the particles.
NOTE: Use of soap or any washing powder would result in danger. Try using safe and specific cleansers made for turtle tanks.
Conclusion:
Now that you have read the complete article and have the full details and information regarding the best filters for turtle tanks. It's time to choose one according to your preferences. Just go and check it from our reviews and understand the basic points from our buying guide to buy the best product, which is righteous according to your requirements.