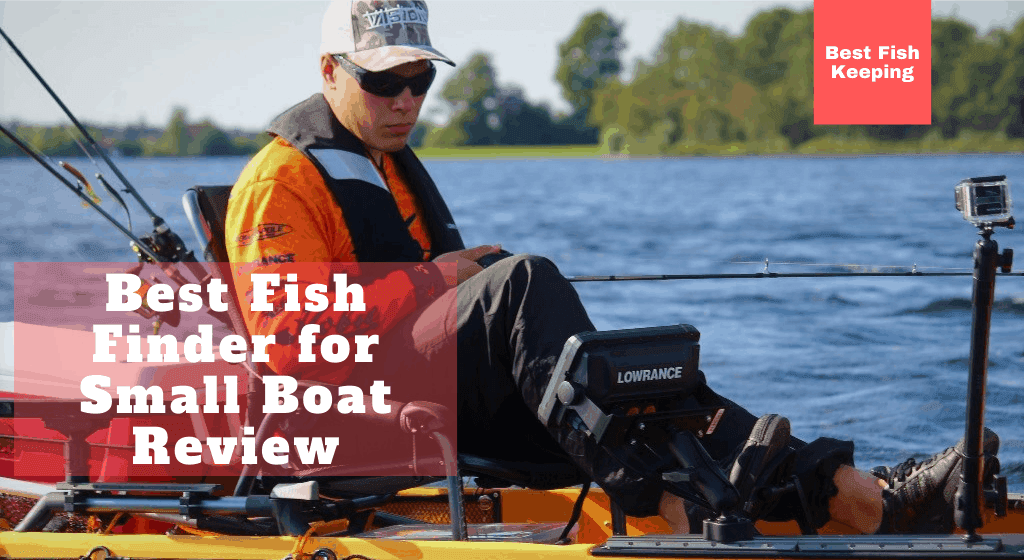 Fishing is a relaxing and charming activity. However, if you know where the fish are located, you'll be wasting time without getting a single catch. That is where a fish finder comes in handy.
You can get these devices in many sizes and with many features. Most men and women enjoy fishing alone as noise tends to scare the fish away.
Such fishers should invest in the best fish finder for a small boat to improve their fishing experience. When they start using the device, they will realize the value of it.
It can be tough to find the most appropriate for small boats. That is why we have reviewed the 5 best fish finders for small boats and added a buying guide to make the whole selection and buying process easy and hassle-free.
Garmin Striker 4 with Transducer
Garmin is a renowned company for making the best quality fishing products and accessories. So, if you are looking for the best fish finder for a small boat, this is the one for you. Fish finder with Chirp Traditional Transducer comes with high-frequency sonar that offers precise, detailed, and transparent images of anything in the water and around the boat.
The Garmin Striker 4 is a handy tool because it helps a fish finder and a navigation system thanks to its built-in GPS. You can also use this system to point locations such as docks, brush piles, and stumps and navigation track that you're trying to move towards.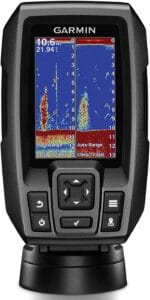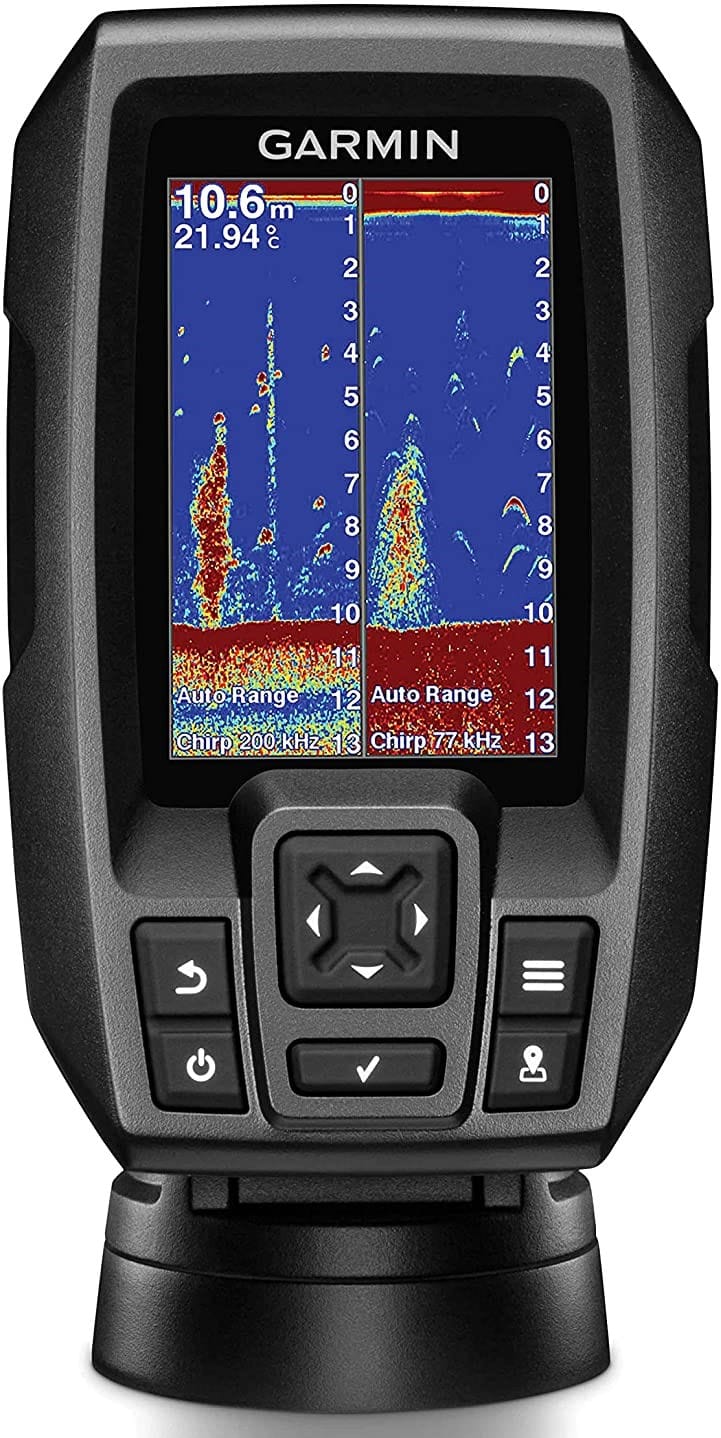 Product Specs:
Displays additional helpful information, such as your current speed and the current water temperature.
Clear visual scanning of objects, structure and fish.
Simple keyed interface with dedicated buttons
Chirp Sonar provides a broader range of information to create crisper fish arches with better target separation.
View your sonar data with a built-in flasher in the classic format.
Perfect for ice fishing or vertical jigging.
Easy to use and easy to install.
Features:
| | |
| --- | --- |
| Sizes Available | 3.5, 5 and 7-Inch |
| Maximum Depth in Freshwater | 1,600 feet |
| Maximum Depth in Saltwater | 750 feet |
| Water Rating | IPX7 |
| Current Draw at 12 Volt | 0.23 Ampere |
| Display Size | 1.9 x 2.9 inches and 3.5 inches diagonal |
LUCKY Handheld Fish Finder Portable Fishing Kayak
It is a product of LUCKY. It's a  portable fish finder that detects and displays water depth, approximate fish location, short & tall weeds, sand & rocks on the bottom. Its design gives you another choice to hang it around your neck. The kayak fish finder suits various fishes and fishing environments:
Usually, the fishing depth finder supports 4-5 hours of continuous working with brand new batteries. It comes with a battery save mode that can be working even longer and offers 12 months warranty for this portable fish finder.
It will be one of the finest fishing kayak accessories to adopt.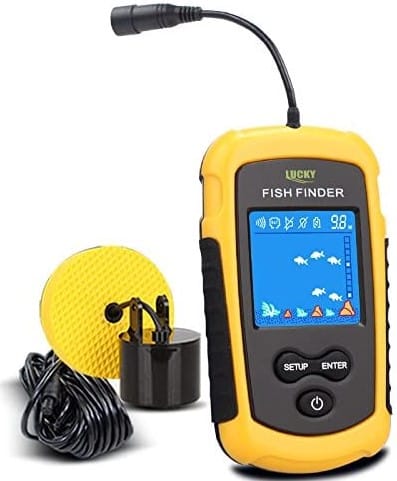 Product Specs:
Depth fish finder Gear with Sonar Transducer and LCD Display
Its detector range is 45°cone underwater.
The Sonar sensor is with 25 ft. cable and a removable transducer.
5 modes sensitivity options: backlight mode, fishing help, battery save mode and fish school alarm.
It can be feasible for kayak fishing, offshore fishing, lake fishing, sea fishing, ice fishing etc.
Features:
| | |
| --- | --- |
| Range Detection | 3ft(1m) to 328ft (100m) |
| Screen Color | Blue LCD |
| Display Size | 5.9 x 3.9 x 3.9 inches |
| Item Weight | 1.1 pounds |
| Speed | 5mph |
Garmin Striker 4 with Portable Kit
If you are looking for a portable fish finder for a small boat, look at this one of the best fish finders. You can easily carry this easy-to-use and simple interface in your backpack.
It has a keyed interface with dedicated buttons.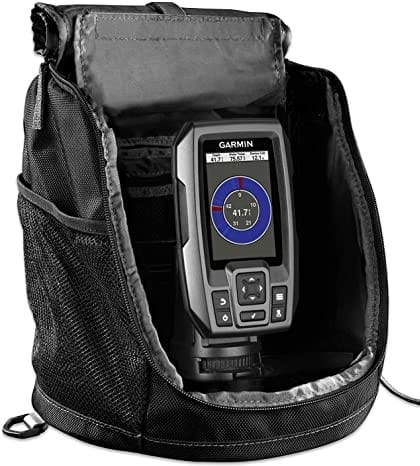 Product Specs:
It comes with a built-in flasher to view your sonar data in the classic flasher format, ideal for ice fishing.
Has Chirp sonar that sends a continuous sweep of frequencies.
Provides a broader range of information.
Chirp sonar can design crisper fish arcs with better marks.
Easy-to-use interface
Waypoint map to view, mark easily and navigate locations such as brush piles, dock and stumps.
Features:
| | |
| --- | --- |
| Display Sizes | 3.5, 5 and 7-Inch |
| Product Dimensions | 3.6 x 1.6 x 5.9 Inches |
| Item Weight | 8 Ounces |
| Transducer | Chirp Sonar |
| Battery | Rechargeable |
 Humminbird HELIX 5 CHIRP GPS G2 Fish finder
Humminbird is one of the best companies in the fish tracking industry. Its Helix 5 Chirp fish finder with GPS G2 is among the best-selling units of this brand.
Helix 5 Chirp is a relatively high technology and comes with built-in maps by Anima. It has a WVGA color display of about 5 inches, making it ideal for small boats and kayaks.
The images display in high-definition so that you can obtain every inch of the shape.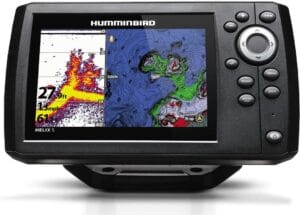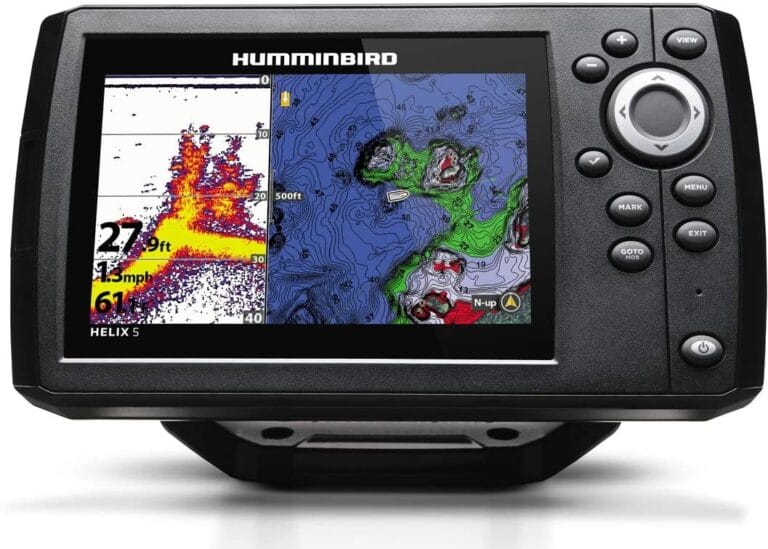 Product Specs:
Side imaging offers a side-to-side perspective on the area below the surface.
CHIRP Dual Beam PLUS Sonar scans the site image to build an incredible view of the water's bottom.
You can see down imaging of all the brush, timber, rocks, and other structure.
Internal GPS G2 Chart plotting along with built-in Anima cartography provided.
Micro SD card slot for free maps or for saving waypoints and locations
Features:
| | |
| --- | --- |
| Display Size | 5-Inch Color WVGA |
| Power Output RMS | 500 Watts |
| Power Draw | 615 mA |
| Target Separation | 2.5 Inches |
| Color | Black |
| Are Batteries Included | No |
| Map Type | Nautical |
Deeper Start Smart Fish Finder
This portable and castable deeper start smart fish finder is wireless, making it the perfect choice for fishing and camping with family and friends. It connects with your smartphone Wi-Fi without using any mobile data or internet. So, where ever you are, the fish finder offers signals to catch fish anytime.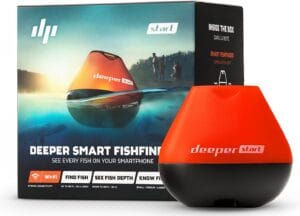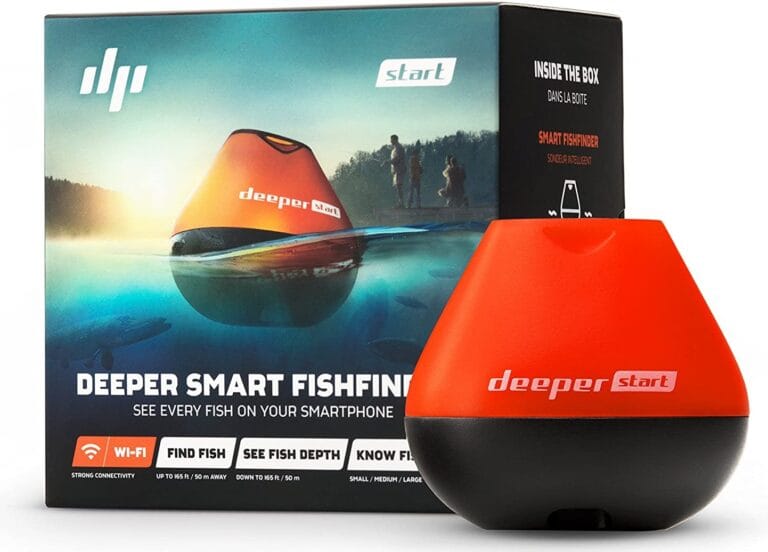 Product Specs:
On START, it generates its Wi-Fi signal without mobile data anytime, anywhere.
Easy-to-use
Its Deeper App feature displays fish location, depth, size, vegetation, and water bottom shape.
You can download the app for free.
This app has over 2 million downloads and updated monthly.
Automatically save all scans with time and location.
Automated night fishing mode available.
Lightweight for comfortable fitting, sleek design for easy reeling
Features:
| | |
| --- | --- |
| Casts Out | 165 ft |
| Battery Life | 6 Hour |
| Sonar Beam | 40° |
| Scans Down | 165 ft |
| Wireless | Wi-Fi Connectivity |
What to Look For a Good Fish Finder?
Choosing the right fish finder is already tricky with diverse options, but it cannot feel easy if you don't know what to look for. Most of the time, you'll find that the best fish finders in four main specifications.
Transducer:
It sends the signals to the screen after getting it, which translates them into pictures we can understand. All fish finders that we carry include transom mount transducers from the box. You can either mount it within the frame, where it will shoot through the plastic, or you could run it via a pipe although the scupper hole.
Lowrance also makes a suction cup bracket you could use to stick it to the side/back of your kayak. Among the essential steps to ensuring that your fish finder functions as it should is installing the transducer. If you do not install it properly, it may not emit sound waves or pick up signs as it should.
Various transducers include different mounts for installing. For smaller ships, the most convenient bracket is the transom mounts that you could set in the hull. Unless you intend to use the fish finder on a bigger boat, there is typically no reason to be worried about a more severe or comprehensive installation for your transducer.
Size:
Large fish finders can also be more difficult to mount in addition to up to ten pounds heavier. It might not affect how well it works, but a fish finder that is the right size can save you a lot of trouble.
If you've ever worked with a fish finder before, you Might already know that the bigger it is the better. Some larger vessels might require a larger device, but anything more significant than six inches may get in the way if you are on a little boat.
This is particularly true for rowboats or even kayaks.
Power Source:
When you set up a fish finder on your kayak, you will have to prepare a power source, too. This can be a conventional marine battery set in a waterproof box (essential!). You can run the wires from the battery to the transducer and display.
If you don't want to do all of that DIY work, you can choose a portable fish finder with waterproof battery packs built into the situation. Just pop in some shop-bought cells and you're good to go.
Every fish finder needs a power supply. Smaller fish Finders typically use portable waterproof batteries, but other versions may use standard marine batteries.
Standard marine batteries do need a bit more wiring and setup, so if you're interested in saving some time, a model that has a portable battery might be the better choice.
Not to mention, since you don't need to wire your Portable fish finder to the boat, you can take it with you on other vessels.
Display:
When picking a kayak fish finder, the screen size is the most important thing to consider. Anything bigger than 5-6 inches will get overly fussy and get on your way — especially since kayaks are not very wide.
Something very large will also be weighty, so it becomes trickier to mount, also.
If you use a ram mount on one side of the kayak to mount the screen, you add 5-10 lbs of weight from 7 inches plus components.