The style and techniques of fishing have been advancing a lot over the years. As a result, there are several kinds of fishing rods, lures, and reels to choose from based on your preference. Today we will focus on the method of jig fishing with the help of described below best jig rod for bass. If you're planning to go on a boat ride fishing or if you want to fish in deep water with a lot of covers, then a jig gig is a must for you. For that reason, we've enlisted the best jig rods for bass.
Jigging requires many vertical backs and forth movements and can be a little trickier than the casting rod. In jigging, a lure is designed to move vertically rather than horizontally. Therefore, the rods used in jigging are lighter, sturdier, and challenging because you'll have to pull the fish out from deeper parts. Also, you will have to jerk the rod up and down for a long time if you hook onto a big bass; therefore, the rod has to be lightweight.
We will thoroughly go through these factors in a while. For now, let's reveal some of the top jig poles.
Top 10 Bass Jigging Rods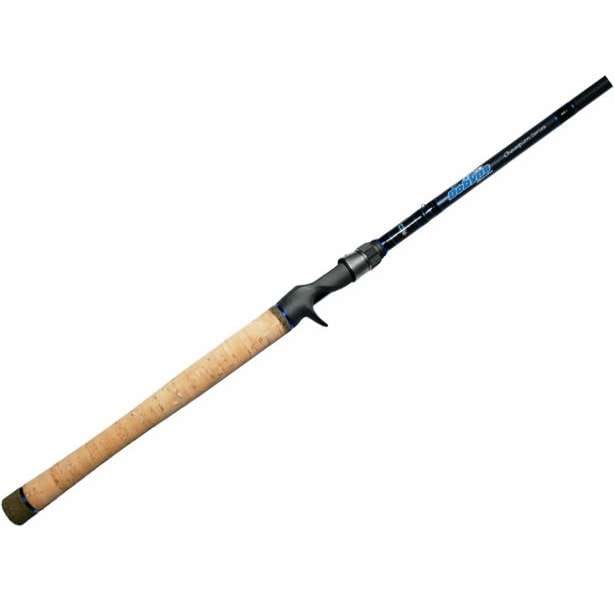 Key Features:
Length: 7'3″. Line weight: 10-20 lb. 0.25-1 Oz lure weight. AA-grade cork grips. High modulus blank
Dobyns Rods 734C Champion is one of our favorites when it comes to versatility in fishing rods. Dobyns has used tremendous craftsman skills to turn a high-quality blank into this beautiful jigging rod.
The cork grip is excellent as sweat or moisture won't affect your grip on the rod. Finally, the Kevlar wrapping over the pole completes its neat black and blue shaded appearance.
The Dobyns 734C Champion is a heavy fast action 7 feet and 3 inches long rod. The longer length means it's more suited for slow pitch jigging.
The Dobyns champion series rod can hold up to 10-20 lb. of line weight, which is not suited for vertical jigging, but it's almost useable in all the other scenarios. The tip and the line can smoothly carry 0.25-1 Oz of lure weight sufficient.
The Dobyns rod 734C is a great jig rod to open up this list with. Its versatility is second to none. You can use spinnerbaits, Buzz baits, small swim baits, jigs, Senko's, and several others with this rod without any hiccups, which is precisely why it's highly rated and loved by a lot of anglers.
To top it all off, it also has an incredibly reasonable price!
Pros
Versatile fishing rod
Great for slow jigging
High-quality build
Budget-friendly
Cons
Not suitable for vertical jigging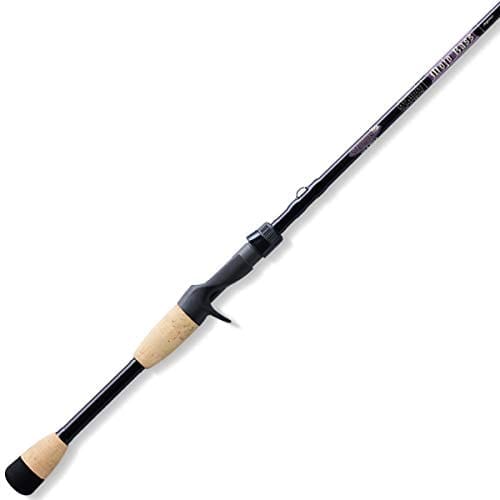 Key Features:
Length: 7 feet. Line weight: 14-25 lbs. Lure weight: 3/8-1 oz. Split EVA handles. SCIII carbon rod structure
St. Croix Mojo is one of the most popular rods explicitly designed for jig fishing for bass. If you're just heading out on your boat or your nearby pong is full of weeds and Seaplants, then this rod will be a great assist to you to tackle the bass in between the deep covers.
Coming in at only 3 inches shorter than the Dobyns Rods 734C Champion, the St. Croix mojo is also great for slow jigging and several other fishing methods. You can safely apply braided lines which weigh from 14-25 lbs., and this is also sufficient for bass.
The lure weight range is 3/8 to 1 oz., which isn't usually restricting with these rods, but it's better to know all the facts.
St. Croix Mojo also uses a cork handle, but it's in split style. In our opinion, split handles are much more helpful in jig fishing. The rod is lightweight, only weighing up to 4.8oz without any reel attached.
The design and strength of this rod are not at all disappointing St. Croix confidently boasts the use of SCIII carbon premium rod with a fortified resin system, which enhances its immense strength and longevity. The heavy fast action rod performs well under many jigging methods and is a great option to think about.
Pros
Amazing durability and strength
Top level quality
Great rod action
Efficient split grip
5-year warranty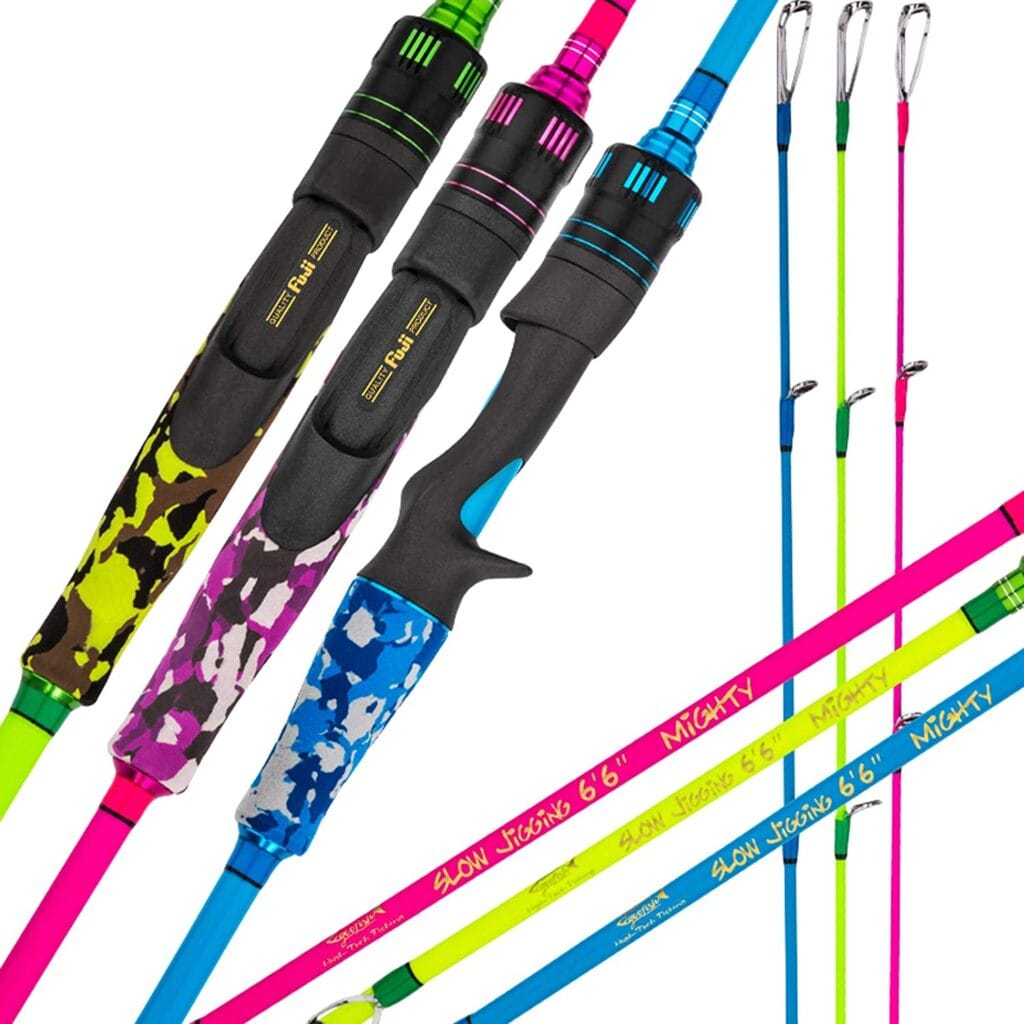 Key Features:
Length: 6'6″. Weight: 210 g. Nanotech blank. Split handle grip. Available in three colors
GooFish will be a recurring company in this list just because they have several top-quality jigging rods. The first one is the "GooFish Mighty Jigging Rod," which is available in three different vibrant colors; blue, green, and pink. The GooFish Mighty Jigging Rod also has a split handle grip.
The length of the jig rod is 6'6″ this puts it into an excellent middle ground of being suitable for both slow and vertical jigging both. Solid nanotechnology-built blank rod makes this extremely strong, light, and sensitive. The length and build together make this a fantastic option for vertical jigging because it requires a strong rod and sensitivity. The PE size of this rod is 3-6 (this indicates the line diameter of 0.285-0.405mm)
If you're planning to head out for offshore fishing in a river, lake, or deep sea, then this is just the right fit for you. You'll easily be able to do vertical jigging thanks to the sensitive tip and robust quality of the GooFish Mighty Jigging Rod. However, we'd recommend you use the rod more for slow jigging as we thought it was much more efficient in that method.
Their solid reel seat is smartly designed to host different reels, although a spinning reel is best suited for the GooFish Mighty Jigging Rod.
Pros
Multiple options to choose from
Great for offshore fishing
Impressive nanotech blank
One year warranty
Cons
The handle is a little uncomfortable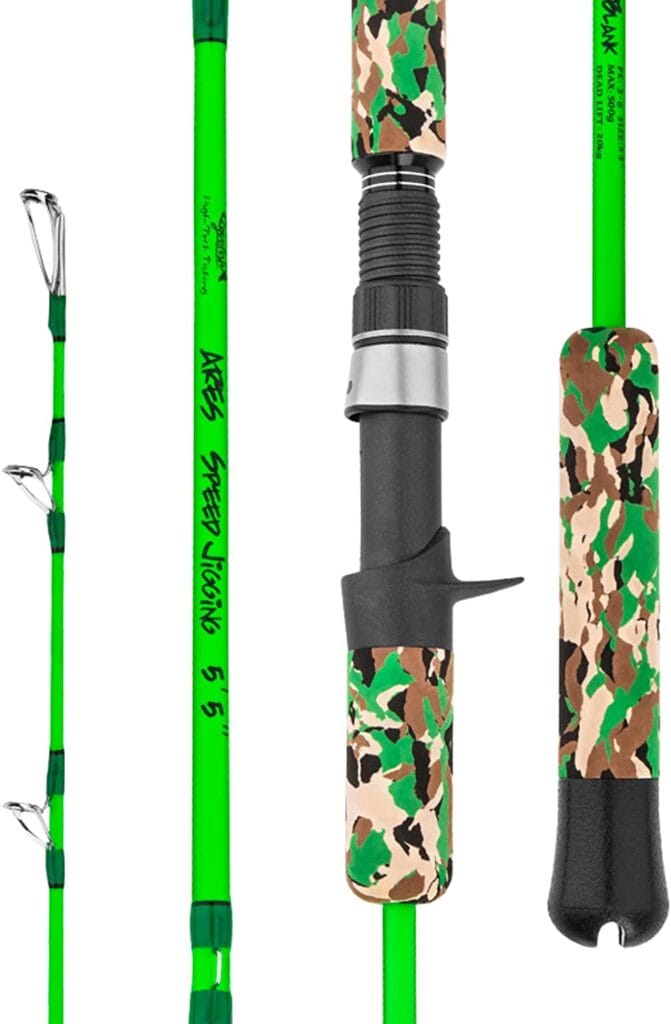 Key Features:
Length: 5'5″. Nanotech blank. PE 3-6. Max drag 20kg. FUJI K frame
Right off the bat, we've got another GooFish jigging rod to review. This one is their Ares model, which is compact, thin, and shorter. Its characteristics make it great for vertical and fast jigging. The GooFish Ares has a camouflage vinyl design that looks neat outdoors. Just like the 'Mighty' model, the Ares also uses solid nanotech blank rods, which makes it impressively reliable and robust for heavy-duty but lightweight action.
Lightweight in size and only 5 feet 5 inches in length makes it great for vertical fishing. Whether you're offshore or fishing in a pond full of covers, GooFish Ares is a must need in your fishing gear.
A sensitive, fast action rod will help you with up and down motions to help pull out the bass from deep waters. A solid PE of 3-6 is more than enough for jig fishing.
You know we love split handles when it comes to jigging rods, and thankfully, this one has it too. Since it's meant for vertical speed, jigging split handles help maintain a good grip for long periods. In addition, the size does not decrease its power. The GooFish Ares can drag around 20 kg of weight, which is well above largemouth bass weight.
Pros
Great for vertical jigging
Clean Camo look
Very sensitive
Split handle helps with the grip while fishing right underneath you
Suitable PE rating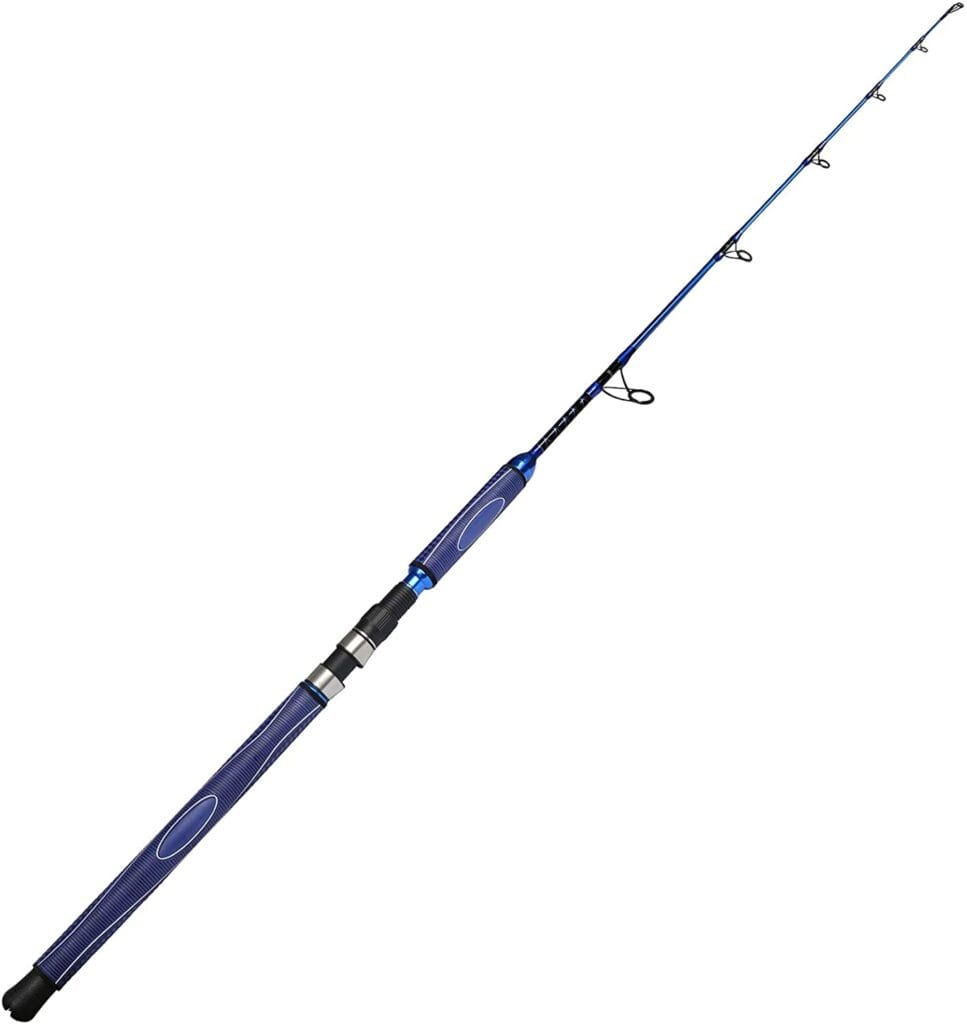 Key Features:
Length: 5'6″. Line weight: 50-80 lb. Medium-heavy power. Lure weight: 4-8 Oz. Super Polymer handle
If by any chance, you love playing golf and like to practice jig fishing, then the Fiblink spinning jig rod is the perfect fit for you. You may be wondering why we said that; well, the reason behind this out-of-the-ordinary comparison is due to the handle grip on this rod. The Fiblink spinning jig rod uses a super polymer handle, precisely the one found on a golf club.
Fiblink spinning jig rod uses E-glass graphite blanks to create the rod, and this material proved terrific when it comes to its pulling power. It's also sufficiently durable, lightweight, and strong, which is an essential factor that makes or breaks a jigging rod.
The great thing about this jigging rod is its line weight capacity of 50-80 lbs. with a lure weight range of 4-8 oz. This will help fight against some big bass from the depths of the water bodies.
If your primary focus is on offshore fishing, then this is one of the best jig rods for bass to use. The medium-heavy power means the band kicks in after enduring a good amount of pressure.
The line weight will make it immensely easy for you to tread in deep waters and catch heavy bass, too, although this type of rod requires physical strength and prolonged motions to catch a fish.
Pros
Perfectly built for speed jigging
Beautiful design
Good line weight range
Highly durable
Cons
Requires some practice to get good at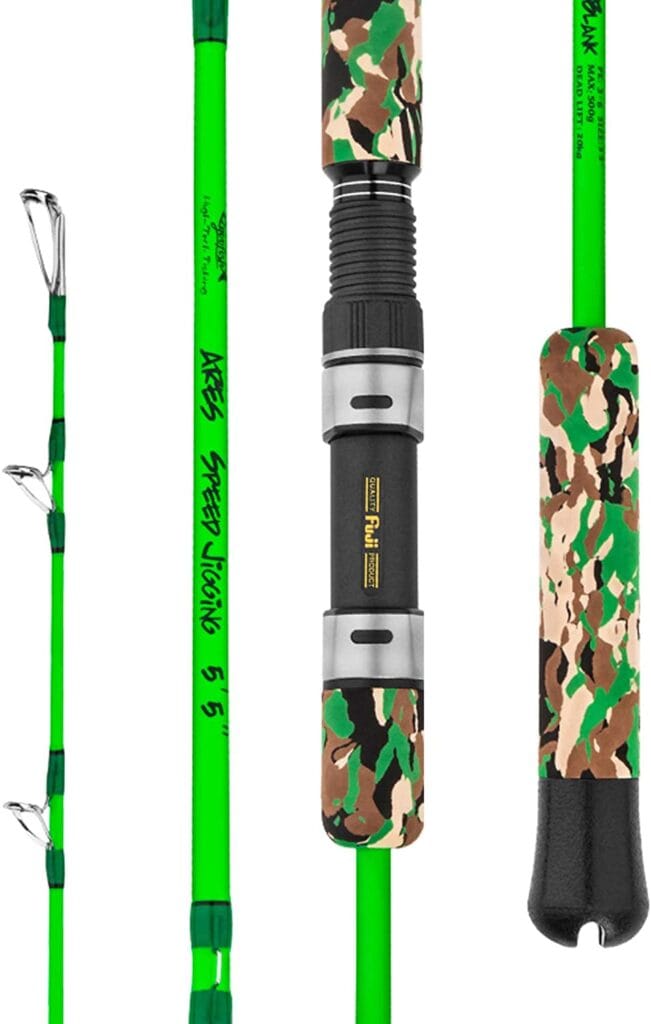 Key Features:
Length: 5 foot 5 inches. Solid Nanotech blank. PE 3-6. Max drag 20kg. FUJI K frame. Segmented EVA grip
Although we did cover ARES just a while ago on this list of the best jig rod for bass, this is a different variant since it's a spinning rod model. The camo design will help you blend in with nature and feel more instinctive. In addition, the thin but sturdy rod is one of the best when it comes to durability.
It is short in size, only reaching 5'5″. The GooFish ARES Spinning model is great for fishing directly underneath you, and because of its limited length, you can easily control it against fighting bass.
The PE of 3-6 allows you to use thicker and more durable lines which will immensely help you pull fish out of covers. This rod is fantastic for large-sized fish, especially in the scenario of offshore fishing.
The ring brackets are of top quality; they are completely worn and corrosion-free, which helps them last much longer than the ring brackets on a regular jig rod. The segmented EVA grip is excellent since it's a short-sized rod; having a double grip dramatically enhances the control over the GooFish ARES. A lack of cushioning can make it uncomfortable to use for long periods.
Pros
Lightweight
Amazing for vertical jigging
Great sensitivity
Cons
Uncomfortable grip for longer sessions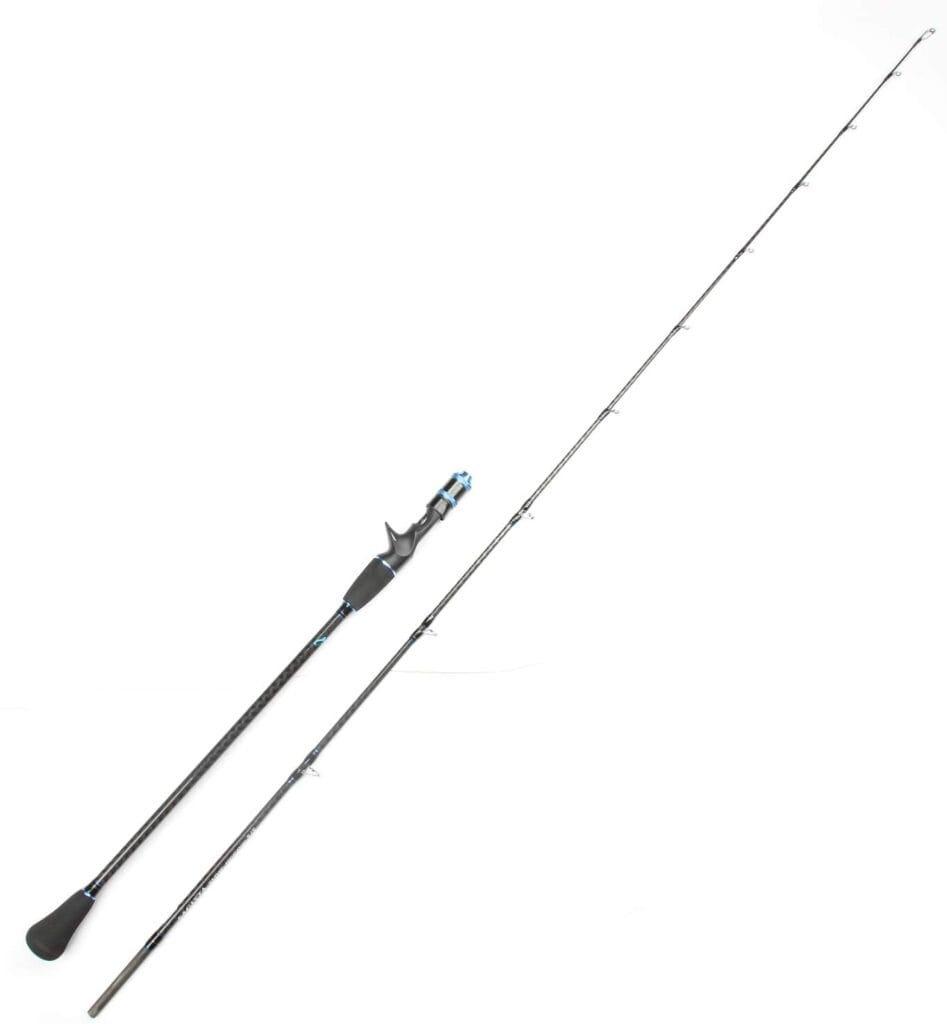 Key Features:
Length: 6'4″. Weight: 151g. PE 1-3. Max 7 oz. lure weight. 2-piece set. Suitable for slow jigging
Rosewood Slow jigging rod is one of the best-looking rods on this list. Out of all the jigging rods we picked, nothing beats the Rosewood when it comes to appearance. But appearance isn't all that it excels in. There are some fantastic specs on this jig pole that will pave your way into the world of jig fishing.
A moderate length of 6'4″ is excellent for slow jigging sessions. Due to its medium action, the rod bends almost from the middle portion, which allows it to be used in close proximity. The EVA grip is ergonomically designed and is very thin but strong.
The Rosewood rod comes in two pieces that you can attach, which makes up its total length. It has a PE of 1-3, making it suitable for medium-sized fish; larger fish might be harder to reel out.
The light-sensitive pole is terrific for slow jigging; the only complaint we have is its handle. Don't get us wrong, the grip is excellent and comfortable, but it's not the best thing to hold on to for hours. However, the length and specification make this rod suitable for many different fishing techniques. The Rosewood rod is capable of dragging up to 6 kg or 13 lbs. of weight.
Pros
One of the best designs
Great price
Lightweight
Strong, durable body
Cons
Grip not the best for prolonged continuous use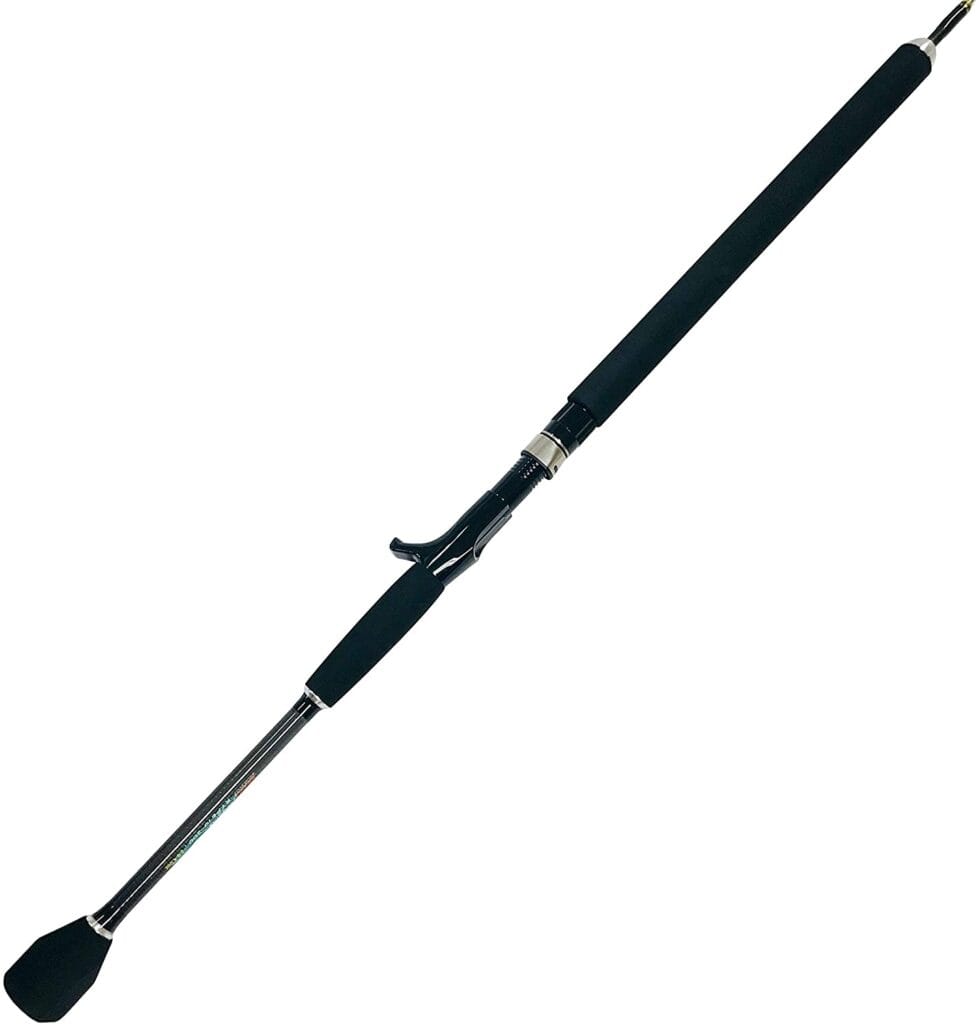 Key Features:
Length: 6'7″. Line weight: 15-25 lbs. EVA handle and grip. Slow action rod. Split handle with foam butt
EatMyTackle Tuna Terminator is a beginner-friendly slow jigging rod. The all-black fishing rod is as clean and straightforward as it can get. The combined length of the assembled rod is 6 feet and 7 inches. EatMyTackle Tuna Terminator is the first slow-action rod on this list.
A slow action rod means that the rod will bend almost to where the rod meets the handle, making the whole rod flexible. Rods with slow action are suited mainly for smaller fish, and the flexibility helps fight them with ease without the fear of the hook breaking.
The EatMyTackle Tuna Terminator can hold a line weight of 15 to 25 lbs., which is good enough considering you'll be jigging to catch smaller bass.
The EatMyTackle Tuna Terminator has a split handle grip colored grey and black. It also has an EVA foam butt which is a great addition since the grip is essential on a slow-action jig fishing rod. All in all, if you're a much more laid-back, slow angler, then this is suitable for you for catching small to medium-sized bass.
Pros
Amazing split handle grip
Great for slow jigging
Perfect for small fish
Dual colored Grip
Cons
Not suited for catching bigger fish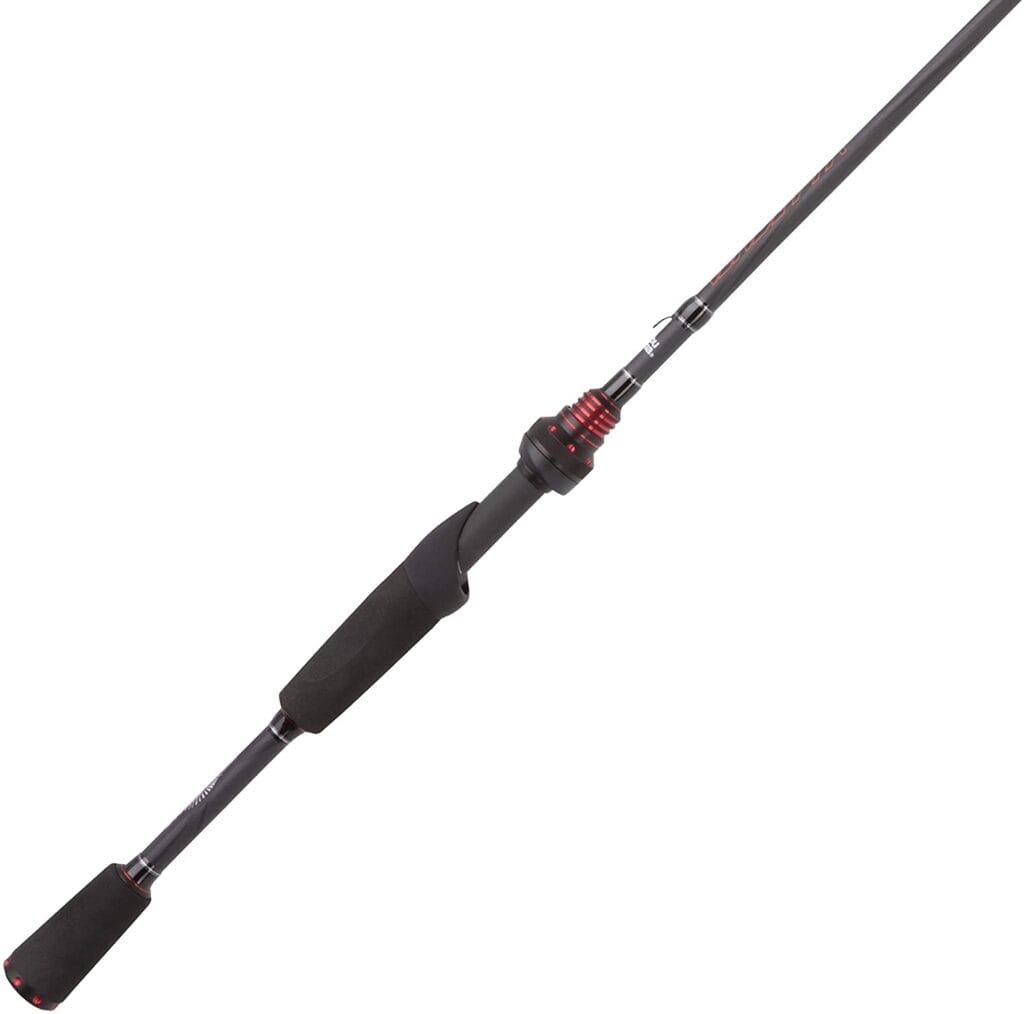 Key Features:
Length: 7'4″. EVA and TAC split grip handle. Medium fast. X-veil high modulus blank. 30-ton graphite with a lightweight, balanced design
Well, Abu Garcia never disappoints when it comes to fishing equipment. Their Vendetta Spinning rod reminds us of a lightsaber due to its cold design. With an extended length of 7 foot 4 inches with a medium-fast action power, this rod is one of the favorites of many anglers.
The 30-ton graphite body with x-veil high modulus blank offers some outstanding durability and sturdiness while keeping the rod lightweight.
The EVA and TAC handle grip are split, with the main handle being designed in a curve to ensure better grip; the medium but fast power action deems this rod excellent for fighting almost all kinds of fishing in deep waters. The reel seat is nicely designed, which allows many types of reels to fit in. If you're planning on an offshore trip, a jig setup will be incomplete without Abu Garcia Vendetta.
The IntraCarbon technology enhances durability while keeping it incredibly lightweight. The spinning model is available in a different line and lures weight capacity, and it is available at a fantastic price range. The Abu Garcia Vendetta is by far the best jig rod for bass on this list, combining all the factors and its price.
Pros
Perfect power and action for jig fishing
Comfortable grip handles
Top-tier quality design
Amazing sensitivity
Budget-friendly

Key Features:
Length: 7'5″. Power: Heavy. Action: Fast. Fuji K-frame. Cork split grips. Suitable for slow jigging
The last jig pole is the G. Loomis GLX Jig Rod. According to G. Loomis, they have improved their GLX rod drastically by enhancing its durability and efficiency. The Fuji K-frame is a great addition that gives the G. Loomis GLX Jig Rod a significant boost in durability and also helps decrease its weight.
The G. Loomis GLX Jig Rod is the most extended rod on this list, and it reaches up to 7 feet and 5 inches. Its heavy power means that the rod can endure a hefty amount of pressure before bending. It is a fast-action fishing rod that means only the tip will turn when countering a fish.
The line weight capacity is 14-20 lbs. which is perfect for slow jigging and bass fishing. Although a little less than usual, the lure weight is 5/16-¾ oz., but that's alright since it's still enough for simple bass fishing.
The sensitivity on the GLX is one of our favorites from this list and packed with immense power. This one is an excellent option for all the jig anglers out there. The specs matched with the dimensions are almost perfect for it to be the best slow jigging stick.
Pros
Great power and action combination
Neatly designed cork handle
Great for slow jigging
Very balanced fishing rod
Buying Guide on Best Jig Rod for Bass Fishing
Before you buy your jig rod for bass, it's essential to go through some of these factors we've listed out for you so that you can consider what's best based on your personal preference.
Rod Power:
Rod power tells us the pressure a rod can take before it starts bending. You'll find various levels of powers, from ultra-light to extra heavy. The power you want heavily depends on the weight of the line, lure, and targeted fish.
Rod Action:
Rod action is how much the rod bends under pressure. In some rods, only the tip bend; these are called fast rods. Some rods will completely bend; these are called slow rods. Short rods are better for larger-sized fish, whereas slow rods are suitable for deep fishing of smaller-sized fish.
Rod Length:
Other than action and power, the length of the rod is also critical. Longer rods are suitable for long casting jigs in water with heavy weeds. They also require less physical input. Shorter rods are ideal for fishing right beneath you, but they need continuous vigorous motion.
Price:
Like all things, everything eventually comes down to the size of your pocket. A lot of these jig rods are reasonably priced, but some can break your bank. So after close assessment, choose what lies precisely in the balance of being the perfect buy and not being too heavy on your pocket at the same time.
Summary
We've chosen the Abu Garcia Vendetta for our top pick because of its perfect length size with suitable action and power, which is highly useful in jig fishing. Also, it has a fantastic build quality and a top-notch handle grip, and all of these things are available at a great price.
Our second pick has to be the GooFish ARES spinning model due to its compact size and durability. The short-length pole helps in fishing right below you and for fish behind cover.
With that, our time of flooding you with reviews and information about the best jig rod for bass comes to an end. We hope that our listed buying factors and our top picks aligned with the detailed reviews of the top ten jig fishing rods help you choose what's meant for you to help you be a better angler.
FAQs Related to Jig Fishing Rods
How do you use a jigging rod?
The casting method is the same as a general rod, but the difference is the motion of the rods. When using a jigging rod, you'll have to make vertical movements to reel your fish in.
Can you jig fish from shore?
Yes, you can jig fish from shore but with a lengthy pole. However, jig fishing is best suited for offshore fishing.
Is a jig the same as a lure?
A jig has a sinker attached to it which makes it fall deep. The jig also moves in jumpy vertical motion attracting the fish from out of different covers. However, lures are used for their fake appearance, sound, shape, or color to draw a fish.
Can you jig fish at night?
You can use jigs at night; several big-sized jigs are suitable for nighttime, especially those found with a football-shaped sinker.