All of us like to create attachments with people, animals, and plants. The feeling of looking after someone and watching them become better is an amazing sensation. In this instance, we will help you with the best lighting for coral reef aquariums to improve your care for a particular living thing.
People have inherited fish as pets for years now. The art of designing your aquarium and having your fish swim around in their snack-sized ocean has attracted many animal lovers. The love of aquatic floras was then developed, and with the care of the fish, many people started caring for these floras.
Then came the Coral reefs. Corals are living things but are not classified as plants. They are rather tiny animals in the form of polyps. The vibrant colors of the corals are probably one of the most beautiful things on this planet.
If you're someone who bought a coral recently and want to look after it and help it grow fully. You will need a good lighting setup. Coral reefs are situated in shallow waters because they need sufficient sunlight to derive energy. To mimic this scenario, you need the best lighting for Coral Reef Aquarium.
Luckily, we have lined up just the right list for you. To help you pick out the best possible option, we will review all the Lights in depth.
Related Also: Tomini Tang Fish Care, Lifespan, Food, Breeding, Tank Mates
Top 10 Best Lighting for Coral Reef Aquariums
1) SHANG-JUN Aquarium Lights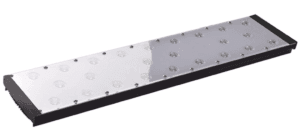 Key Features:
A mix of 60° and 120° degree light lens
24 LED lights
60 watts power
Included controller
Dimensions: 21.2×4.72×1.4 inches
Weighs about 4.4 Lbs
SHANG-JUN Aquarium Lights LED is the first product on our list. From the list, this is surely the slickest-looking LED light you can get. This SHANG-JUN model contains a range of different angled LED lenses spread around on a metal panel. The SHANG-JUN Aquarium lighting has 60 watts of power. That shouldn't be a problem to handle for a basic wall socket.
This LED Light panel will sure illuminate the coral reef set up inside your aquarium more than any other aquarium light could. The 24 LEDs allow it to illuminate more than the rest. It also comes with a controller.
You can set the color or mode with the controller to match your reef's ambiance and room. The modes you can choose from are; fast, adapt, vivid, fragile, sunrise, sunset, moon, and moonlight. These various modes will also assist your coral reef's growth.
The controller introduction is a big upgrade from SHANG-JUN's older models of aquarium lights. It is a smartly built panel that allows quiet operations. Due to less power consumption, heating up isn't much of a problem.
SHANG-JUN Aquarium Lights LED is a great option if you have a medium-sized Aquarium. It is best suited for a 24-inch-wide tank. SHANG-JUN will surely add to the ambiance of your room and create a smooth vibe for your fish and help your coral reef grow. The build, however, is a little fragile and should be handled with care.
Pros
1. Energy saving
2. Easy installation
3. 7 Color modes to choose from
4. Quiet in sound

2) Hepo LED Aquarium Light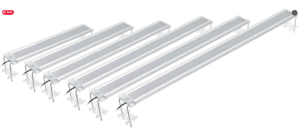 Key Features:
45 watts Power on the 100cm size model
Dimensions: 100 cm
Hepo ED6 LED series
Adjustable brightness
Material: Aluminum and plastic
Hepo LED aquarium light must mention in our list of the best lighting for Coral Reef aquariums. The compact design and strong build make the Hepo LED one of the best budget options to buy. It is built out of aluminum alloy and has plastic protection. As for the body, it has an innovative power touch button on the top.
The power touch button carries a lot of functions within it. After plugging the Hepo LED light, you can turn it on by touching the power button once. Clicking the button again would change the color mode of your lights. There are 6 modes in total to choose from.
By holding down the power button, you can adjust the brightness of your light. This is useful for when you want to dim the lights during nighttime. This is an easy way to cycle through modes and dim or brighten the lights. The internal button system eliminates the fear of losing an external controller.
When you buy the Hepo LED aquarium light. Hepo provides an adjustable bracket in the package. This bracket will lock onto the frame of your aquarium. It can be adjusted by extending up to 15 cm in length and 2.5-15cm in height. This will give you the freedom to operate and move your lights around without removing them entirely.
As compared to the SHANG-JUN's LED, it doesn't have an external controller of any sort. But it is still a great product and much better than SHANG-JUN in aspects of design and air ventilation. The option of various sizes allows you to choose the perfect one for your aquarium. Hepo is a reasonably priced product and has a lot of user-friendly features, which we stated above.
Pros
1. 6 different sizes to choose from
2. Easily customizable modes and brightness
3. Extended bracket included
4. Adjustable height
5. Efficient cooling system

3) Lominie Saltwater P30 Full Spectrum Tanks Light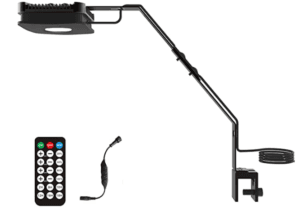 Key Features:
26-30 Watts power
24 pieces chip COB LED
Dimensions 4.1×4.1×1.2 inches
Weighs 1.5 kg
InfraRed remote
Next up on our list of the best lighting for coral reef tanks is the Lominie Saltwater p30. With this product, we move away from the traditional panel design. The Lominie Saltwater p30 is our first Light that comes on top of a stand. The height allows it to have a bigger spread in the aquarium.
The bracket is made out of aluminum, and it is adjustable and flexible. It is also waterproof, so you won't need to worry about any water coming in contact with it. The length of the bracket can be changed between 5.9-11.8 inches. The height can be adjusted from 5.9 up to 9.8 inches. Lominie uses a COB LED system, a compact design with 24 chips of LEDs in a 90° lens.
The IR remote, which is included in the package, can change among the 4 different channels. These channels use different colored LEDs and are beneficial for your coral reef and fish in different aspects. The range and sharpness of the COB LED will give your aquarium a much sharper look than the previous products we mentioned.
The Lominie p30 is suitable for an 18-20 inches cube-sized tank. Therefore, a single lamp won't be sufficient if you have a larger rectangular-shaped coral reef aquarium. For smaller aquariums, this is one of the best lightings for coral reef aquariums. It will allow the coral reef to grow naturally. An important side note, the WIFI controller, is not included in the package and needs to be bought separately. This will allow you to set the brightness and change the channels from your phone without using the IR remote.
Pros
1. Minimal good-looking design
2. Noiseless
3. Waterproof bracket and power cord
4. Easy to use remote
5. Well organized power usage

Cons
1. Only suitable for cube-shaped aquariums
4) Hipargero LED Aquarium Coral Reef Lighting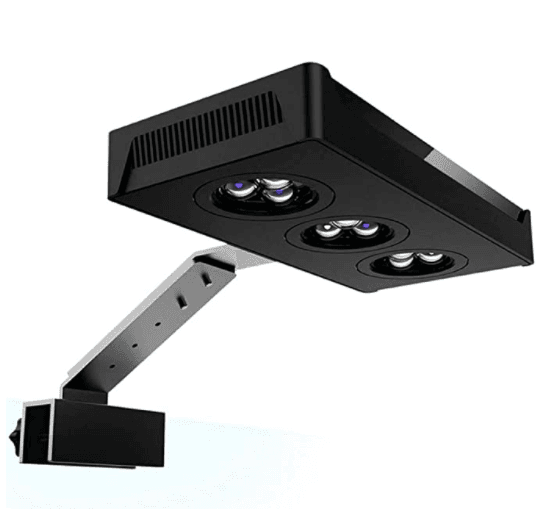 Key Features:
30 watts power
Dimensions: 8.7×4.3×1.2 inches
Weighs about 2 Lbs
The life span of 50000 hours
Cree LED system
Touch control function
The Hipargero LED Aquarium Lights is a popular choice among the nano reef community. It is surely one of the best lights for a coral reef tank. The body of this is light is manufactured from e-plastic. It is a lightweight light and comes with a mounting bracket that can be adjusted at the rim of your coral reef aquarium. The Hipargero 30 watts powered light is suitable for a 30-45 cm sized coral reef tank.
The Hipargero Light carries three in one 3w LED bulbs inside a 90° lens. These bulbs hold white and blue channels, which can be adjusted by the user. On the upper side of the panel, there is a built-in fan. This fan works efficiently and will help keep the light quiet and cool while your coral reef gets all the healthy lights to grow from.
Right below the fan, there are two buttons with a plus and minus sign shown on top. The buttons have multi uses. The 'minus' button will adjust the blue light, whereas the 'plus' sign will change the white light. Long pressing these buttons will strengthen or weaken the blue and white light simultaneously.
As compared to our previous options, this is a compact yet smart-looking design and ensures long durability.
Hipargero improved its LED light product by adding an intelligent fan system. The fan system not only keeps it cools but helps in letting the light last longer. This is a great budget option to consider when choosing the best light for a coral reef tank at your home. The easy adjustments can help you choose the desired option that will make your coral reef colors pop and look aesthetically beautiful.
Pros
1. Long-lasting life
2. Lightweight
3. Smart temperature control
4. Simple adjustments
5. Great of maintaining corals

Cons
1. The slow growth rate of corals
5) AUPERTO LED Full Spectrum Aquarium Lights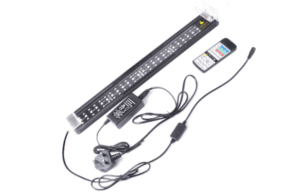 Key Features:
Dimensions: 25.4×3.3×2.75 inches
Weight: 1.45 Lbs
Wattage: 13
Wireless remote control
30,000 hours durability
The Auperto LED Lights with 5050 RGB lamp beads will make certain that your coral reefs are well taken care of. The simple model design is one of the best looks and functions from Auperto compared to their older models. The body is made out of aluminum alloy and has a roof with a good ventilation system that doesn't allow heat to build up.
This LED Light is not hangable; it can only be attached on top of the aquarium using brackets. The brackets can be extended and are insertable on tanks ranging from 52 to 78cm.
Low watts usage is a great indicator that this Light won't heat up and make any noise. This is also the reason for its mentioned long-lasting durability. The product is not waterproof; therefore, it should be handled carefully.
The various LED bulbs are all RGB and come with a wireless controller. There is a 24-hour cycle mode that portrays the sunrise and sunset during the start and end of the day. This will help depict the natural lighting scenario for the coral reef and fish. Other than that, the controller can also initiate different weather effects.
This is a simple yet full feature option you can consider using the best lighting for a coral reef aquarium at home. It's also considerable and pocket-friendly. The guarantee of long durability makes certain that you will use this for a longer period.
Pros
1. Lightweight Material
2. Convenient multi-function controller
3. Simple design
4. The bracket length is adjustable

Cons
1. Height isn't adjustable
6) Current USA Orbit Marine LED Light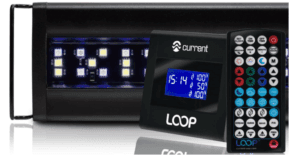 Key Features:
Dimensions: 34.5×3.5×0.4 inches
Wattage: 36
Total of 155 LEDs
Weight: 2.85 Lbs
24-hour lighting cycle feature
Next up on the list of the best lighting for coral reef aquariums for your home is the Current USA Orbit Marine LED Light. This is surely one of the top picks from this list. It almost got all perfect scores in every department.
The Current USA Orbit marine has a black aluminum body which we have commonly seen so far on this list. The body allows a safe and smooth passage of heat circulation and keeps the light panel cool and quiet at all times. The black body looks great on top of an aquarium. It complements all kinds of room and aquarium setups.
One of the coolest features of this light is that it comes out of the box with a pre-programmed 24-hour cycle setup. The setup starts at 7 am, giving a realistic sunrise lighting effect for an hour. After that, it transitions into daylight colors and then changes again during sunset time (around 6 pm).
The pre-programmed setup not only adds a realistic effect to your aquarium. It fully utilizes all the lights to properly help your coral reef grow! You can even adjust and change the settings according to your preferences. Other than that, there are also weather scenes that you can pick. These distinctly depict different weather scenarios in your aquarium.
The installation is easy to execute, and its long durability ensures that you will have this amazing light in use for years. This is surely one of the high-end lights for a coral reef aquarium. Its LED design and system are uniquely made to improve coral growth. It's an expensive purchase, but if you're willing to get the best and use it for years, then this is surely the product to look at.
Pros
1. Wide-scale of colors
2. Amazing 24 hours cycle lighting system
3. Uncomplicated installation
4. Energy-saving technology
5. Sturdy and long-lasting design

Cons
1. Expensive
2. WIFI controller has to be bought separately

7) Planted Aquarium LED Light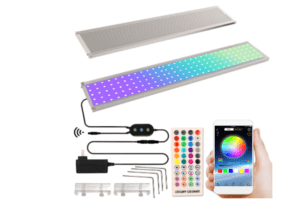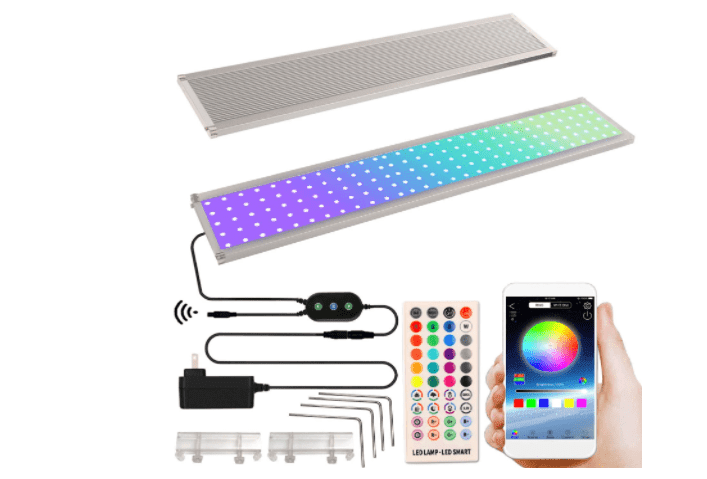 Key Features:
Dimensions: 56x13x2 cm
Weight: 1 Kg
Wattage: 30
Life: 17520 hours
Phone App control
Suitable for 50-70cm aquariums
The Planted Aquarium LED Light is an obvious mention in our list of the best lightings for coral reef tanks. This is solely because it comes with a phone app for IOS and Android. Let's first look at its build. The body is made out of aluminum and metal. The bulbs are covered with an acrylic glass.
The body is very robust. The top of the light panel has some cool features too. It uses an aero hydrodynamic air design system which allows air to pass through the light panel with ease. This efficiently controls the temperature and noise of the light. The feature is new on this list and the best out of other lights for air design.
Like many other Lights we mentioned before, the brackets are adjustable and can fit a 50-70 cm wide tank.
Another standout feature in this LED Light is its app capability. So far, we've seen IR controllers and built-in buttons. It's safe to say that App control schemes are far more innovative and user-friendly. You can set a 24-hour cycle of your choice to portray a day for your coral reef.
This is a great option with many game-changing features, which puts it ahead of many other models. The cause of concern is its life, which is slightly below average compared to the other LED aquarium lights. This light can be used on a coral reef tank, but its main specific use is for a freshwater tank.
Related Also: Aggressive Freshwater Aquarium Fish For Beginners
Pros
1. App control through phone
2. Suitable for freshwater aquariums as well
3. Aero hydrodynamic air design
4. Rust free material

8) AMZBD Aquarium LED Light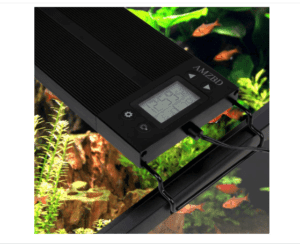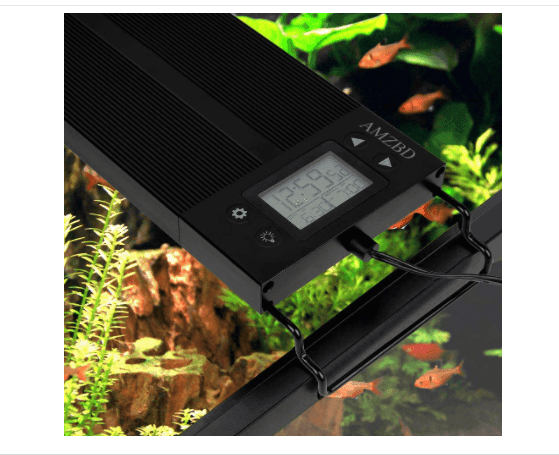 Key Features:
Dimensions: 39.4×10.8×5.9 cm
Weight: 1.5 Lbs
Power: 18
Suitable for 30-45 cm wide tanks
Dustproof and Waterproof
Built-in LCD
We present a classy AMZBD Aquarium LED Light on our list of the best light for coral reef tanks. The black aluminum body, complementing black brackets, can be attached to the rims of your aquarium. The suitable length of the aquarium is 30-45 cm. This product also available in market in different sizes.
The body panel is fully waterproof and comes with a unique heat exit system. This allows heat to flow out and keep the operation silky smooth for hours. On the side, there is a built-in LCD on top of the panel. This LED indicates the current time and the set time at which the modes are scheduled to change.
You can easily customize and adjust between various modes or set a 24-hour light cycle. The cycle will gradually change during different points of the day, making sure the lighting mood is perfect. This will help your fish, aquatic floras, and coral reefs to stay happy and healthy.
The spectrum covers a wide range of wavelengths and soft, smooth non-flickering lights. The AMZBD is a strong and water/dust-resistant Light, which we haven't seen a lot on this list. If high quality is your priority, then this is an amazing article on this list of best lights for coral reef tanks. The LCD screen is a neat touch and will give your aquarium a good overall look.
Pros
1. Innovative built-in LCD screen
2. Neat Design
3. Waterproof panel and wires
4. 7 Different colors
5. Also available in various sizes

Cons
1. The instruction manual a little hard to understand
9) MICMOL Smart LED Aquarium Light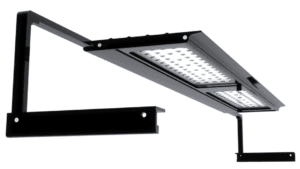 Key Features:
48 Watts power
Suitable for 23-42 inch sized tanks
Smart controller
Weight: 4.4 Lbs
Dimensions: 22x5x0.4 inches
MICMOL Smart LED Light is a top-tier product and surely one of the best lights for coral reef aquariums. The MICMOL Smart LED is a widely popular choice among reefers. The extremely thin design with a black aluminum body makes it one of the best innovative and stunning aquarium lights on the market.
The bracket made out of strong, sturdy steel is adjustable and can be firmly attached to an aquarium. If that's not your preference, you can also hang it over the aquarium by using the suspension kit. The lightweight, fashionable light comes with some amazing lighting features too.
The MICMOL Smart LED package includes a controller too. This controller has various functions. Like the Current USA orbit Marine, the MICMOL also inherits a 24-hour cycle throughout the day, keeping your fish and coral healthy and active. Three channels can be adjusted through the controller. It also contains timer functions and mood lightings such as sunrise, sunset, and lightning.
The controller is easy to use, and you can control all the lighting features without a hassle. The fluorescence light is amazing and keeps your coral reef aquarium alive. This is one of our favorite picks from the best lights for coral reef tanks. The wide variety and spectrum of colors will keep you in awe and enhance your coral's colors.
If you're not on a tight budget, then this is an excellent viable option. Don't forget, it also comes with a year-long warranty! It is surely one of the top options from this list of the best lighting for Coral reef aquariums.
Pros
1. Vibrant multi-color LED
2. Slim and Lightweight
3. Day mode cycle
4. One year warranty
5. It can be attached with brackets or hanging cables

Cons
1. Time-consuming set up
10) DSunY 2X LED Aquarium Coral Reef Light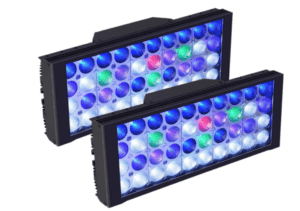 Key Features:
Dimensions: 19×3.5×13 inches
Weighs around 4 lbs each
Durable for 50000-80000 hours
Suitable for 24-48 inch sized Aquariums
Power: 120 watts each
The temperature while operating: -20 to 40°C
The last item on our list of the best lightings for marine corals or coral reef aquariums is the DSuny 2X LED Aquarium Light. This is the first product that sends a pair of panels together. This is highly beneficial as it can easily cover bigger coral reef aquariums too.
The frame of the panels is 3.6cm thin and is made out of aluminum. There is an extension on top of each panel that holds the fan to help in controlling temperature. The fan operates in a fairly quiet manner. The body guarantees long-lasting durability as DSunY confidently claims that it can work up to 50000-80000 hours. To back that confidence, they also provide one year warranty.
40 pieces of 3W Bridgelux LED is an amazing vibrant light source covered by a 120° lens, enhancing the light projection inside the aquarium. Multiply that by two, and all your corals will be popping their colors in an extravagant style while staying healthy.
The package includes roof hooks and cables. You can assemble these and make the DSunY LED aquarium lights hang from your ceiling above your aquarium without any brackets attached to the sides of your aquarium. There's also a wired controller attached against a wall or on the side of your aquarium.
In comparison with the other products, the DSunY races ahead due to them offering two panels together.
You can use the controller to adjust the different channels and change the lightings, timers, and modes. The controller might take a little time to get used to, and unfortunately, there's no manual included with the purchase. The DSunY 2X LED is still a great deal to consider and has all the necessary functions in a reasonable price range. The channel adjustments will help you adopt all the relevant color schemes to make your corals grow healthily.
Pros
1. Good cooling system
2. Long-lasting LEDs
3. Comes in a pair
4. Provides One year warranty

Cons
1. No instruction manual
Buying Guide For Best Lighting for Coral Reef Aquariums
Even if you thoroughly went through all the best lightings for coral reef aquarium with us. It is still important to evaluate some factors before making your final purchase for your vibrant, colorful coral reefs.
The lights we mentioned above had various features and specifications in them. The different kinds of LED's spectrum of colors are essential for the growth of your coral reef—some of these lights suit marine aquariums, and some suit freshwater aquariums.
Both of these aquariums hold flora in them but of different kinds. These products can be used for both sets of aquariums, but they may perform better in one than the other.
The lighting will benefit the corals and fish and enhance the environment and ambiance of the room it's set in. However, it is recommended that special care has to be taken. The Aquatic lights in a small room may affect the user's health if exposed to them for a long time. There may be signs of headache or nausea. So, the lights and coral reef aquarium should be kept in a spacious place with room lightings.
Other than these instructions, some other factors should be considered before making the final decision.
Electric Power:
Since many aquarium items are already relying on power supply such as the filter, oxygen pump, and heater. You should make sure that there is sufficient power being supplied. So that the chosen LED light panel will easily be able to operate through the socket without any power deficiency.
Mounting:
All the lights we reviewed were directly attached on aquarium sides with a bracket or were hung up from the wall. Therefore, the preference is all yours. A bracket attached to coral reef aquarium lights is much more stable and sturdier. The wall suspension Lights give you more room on top of the aquarium without any blockades. With mounting, tank size is another essential factor.
Controllability:
Lastly, another important factor that you need to ponder is how easy or convenient it is to control the lighting for the coral reef tank. We saw WIFI and IR controllers, built-in buttons, and wired controllers. The wireless options tend to be more convenient and time-saving, but the controller should not be misplaced. Whereas the buttons or wired controllers will require physical presence near the aquarium.
Related Also: 18 Best Low light Aquarium plants.
Frequently Ask Questions
Can I put any fish inside my Coral Reef tank?
No, not every kind of fish is compatible with coral reefs, just like every mammal has its habitat. In the same way, some fish species will thrive and happily live inside a coral reef tank. Fish species such as clownfish, angelfish, and cardinalfish are suitable for coral reef setups.
Is light important for the growth of your Coral reef?
Coral reefs exist in shallow water because they need sunlight to complete their photosynthesis process and derive energy to grow. So, yes! Light is utterly important inside a coral reef aquarium. The light that emits all the relevant spectrum of colors and UV lights help the corals grow healthily.
What other factors are necessary to maximize coral reef growth?
Light is not the only factor that is needed to be taken care of. Coral Reef care is a bit demanding, and all the perfect conditions should be met for them to grow properly. Water flow, temperature, and filtration are also crucial for the growth of the coral reef.
Summaries Note
This intensive review guide was to help you pick out the best lighting for coral reef aquariums. Just like you care for your fish and aquatic animals, the same attention and energy need to be used on corals too. We hope you won't keep your coral reefs tank waiting and pick out the best possible lighting covering your corals and personal preferences. Allow your coral reef to grow in health, and it will beautify your tank with its lively colors!