Fishing is a great activity that is practiced throughout the year. However, during winters, it can get challenging to perform. In summers, the freshwater lakes offer complete visibility, and it's pretty easier to pinpoint the fish under the water with your naked eye. Unfortunately, this is not the case during winters. Still, thankfully, in recent years, ice fishing cameras have taken over the market, which makes ice fishing much more manageable and even more fun. For that, we have come up with a detailed list of the best underwater camera for ice fishing for you.
Ices fishing underwater cameras usually come with an external screen which you can use to gaze at what's going on under the water. The screen has a cable attached to it of various lengths at the end of which the underwater camera is placed. Underwater cameras make ice fishing a lot more fun as you and your friends will indeed get fascinated with what your camera captures.
Let's dive into the depths of these icy lakes and review the best underwater cameras.
10 Best Ice Fishing Cameras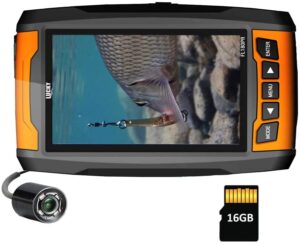 Key Features:
4.3-inch Thin film transistor (TFT) monitor
20m cable wire
Multifunctional monitor screen
Infrared camera
16GB memory card
Free rod bracket
First up on our list is the Lucky Underwater Fishing Camera DVR. The simple-designed black plated monitor and camera are great for underwater ice fishing. You can use this set even during boat fishing and night fishing. In addition, Lucky introduces some essential and useful features and add-ons to their product which allows it to be included in this list.
The monitor is a 4.3 inches TFT screen around the average of all the ice camera screens. The monitor holds three essential functions: camera, files, and video. The buttons on the monitor are user-friendly and easy to operate. What we are is that Lucky sends a free rod bracket with the camera set. You can use this rod bracket to set the camera on top of your fishing rod, making it much easier to control the rod and view the monitor.
The monitor lid works as a sun visor, too, which many other manufacturers forget to include. Since the screens are small, sun rays can make it hard to focus on what's going on. However, the sun visor blocks the sunlight and allows the user to see a clear screen.
The cameras have infrared LED lights installed. These lights make it easier to fish during the night or in murky water. The camera has a 120-degree observation angle. The monitor streams in HD quality, and the 4000mAh battery can safely last through a whole fishing trip.
The 16GB memory card is somewhat satisfactory, but it does require being flushed out or transferred if you plan to use the Lucky underwater camera frequently. The 65 ft cable is more than enough; it allows you to see many depth levels. Lucky has used a waterproof, long-lasting cable wire which can also bear up to 44lb pull force.
Pros
• The camera allows a 120-degree view
• Smart sun visor feature
• It comes with a free rod bracket
• Lengthy cable wire

Cons
• Brightness and contrast not adjustable on the monitor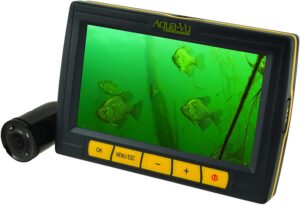 Key Features:
High-resolution 4.3-inch LCD
50 feet waterproof cable
Wide-angle of 135 degrees
Ion battery with 6 hours life
Infrared lights
Aqua Vu has successfully marked its spot in the market of underwater cameras. Their products have a loyal customer following due to their innovative features and compact designs. The Aqua Vu Micro Stealth 4.3 underwater camera is perfect for traveling and great for beginners.
The monitor is the same as the Lucky underwater camera monitor. The only difference is the borders on the Aqua Vu micro stealth are black and yellow. Aqua Vu's monitor also holds more built-in features; you can adjust the color, contrast, and brightness in the monitor settings. In addition, the screen is exceptionally lightweight, which makes it great for traveling. It can also be mounted on various equipment.
However, if you plan to mount it on your fishing rod, you'd have to buy a rod bracket. The monitor also indicates the battery life on top. A fully charged battery can last up to 6 hours.
The camera is clipped on at the end of a 50 ft. long durable wire. The wire has labels on it that indicate each foot. Aqua Vu provides a clip-on fin attachment. You can fit the camera inside this accessory fin, which adds flexibility and versatility under the water. The fins allow better control underwater. You can easily rotate or adjust the camera to your liking. The Aqua Vu micro stealth camera has infrared LED lights, which emit great lit visuals on the monitors but do not bother the fish.
You can use the Aqua Vu Micro stealth in various scenarios, not just ice fishing. You can safely use this throughout the year in freshwater, boat fishing, and kayak fishing.
Compared to the Lucky underwater DVR camera, the Aqua Vu micro stealth camera covers 135 degrees of underwater view, which gives the angler a massive advantage over the fish by examining the surroundings inside the water quickly.
Pros
• Compact design
• Wide 135-degree visual angle
• Lightweight
• Portable
• Adjustable monitor display settings

Cons
• Not very useful in murky or low visibility water bodies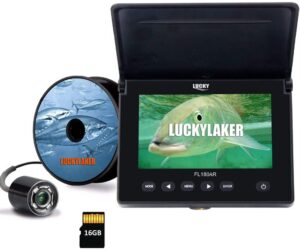 Key Features:
High resolution 420 TVL screen
4.3 inches monitor
Free 16GB TF card
120-degree visual angle
65 ft. cable length
Another Lucky product appears on our list of the best underwater camera for ice fishing. The Lucky Portable Fish Finder Camera has the standard 4.3 inches widescreen. It seems like an old-school phone. The color combination of black and orange is somewhat nice. The screen is pretty compact; however, the design feels a bit bulky. 
The lucky portable fish finder has a 420 TVL screen which beautifully presents a realistic and smooth stream inside the water. This set is also great for dark water fishing and night fishing as the infrared LED lights are quite strong. Unfortunately, Lucky does not provide a free rod bracket with this product; however, the monitor has a screw slow, which means you can slot it onto any tripod.
Like the previous model version we reviewed of the Lucky underwater camera, this one also has three primary functions: photography, video, and files. Unfortunately, the screen color, contrast, and brightness are still not adjustable.
The set comes with a 65 ft long robust and waterproof cable that firmly holds the tiny camera. The line can endure up to 40kg of tension. The camera covers around 120 degrees of view, the same as the other Lucky underwater camera and lesser than the Aqua Vu micro stealth camera.
However, the far-infrared LED lights offer excellent visibility and allow the user to see up to 19 feet from the camera lens. The Lucky portable fish finder camera comes with a free 16GB TF card and is also compatible with all TF cards.
Pros
• Impressive infrared lights
• Free TF card included
• You can fix the monitor on a tripod
• High cable length

Cons
• It does not have a sun visor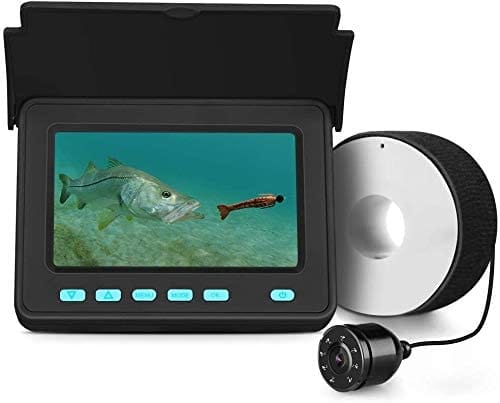 Key Features:
Ip68 waterproof lens
4.3-inch monitor
110-degree visual angle
20m cable
1000 TVL camera
Fixable on a fishing rod
The Eyoyo are known for their bigger-sized monitor screen for underwater cameras, but the Eyoyo Portable underwater fishing camera comes with a 4.3-inch screen. As we've seen, the 4.3-inch size is relatively standard because they're easy to carry and use. In addition, the Eyoyo portable fishing monitor has a neat design with blue buttons on the bottom.
The monitor displays clear pixels, which are clear and high quality. In addition, the monitor has a much-needed sun visor on top, which makes visibility easier during sunny days.
The camera has an 8500 mAh battery which is also the most substantial battery we've seen so far on this list. The package includes a USB cable and a charging adapter. Fully charging the Eyoyo portable underwater fishing camera can take up to 12 hours. Once fully charged, the camera can work for 8 hours straight.
The Eyoyo camera has built-in eight infrared LEDs, which display a clear and crisp image and video quality. Furthermore, you can control the brightness of these LEDs by clicking the up or down button on the monitor screen. This feature is excellent for different fishing scenarios.
Eyoyo provides a rod bracket just like Lucky did with their DVR underwater camera. You can simply adjust the monitor screen on top of your fishing rod while the extended 20m cable holds the camera underwater.
The camera has a FOV of 110 degrees, which is good enough, but it's the lowest figure we've seen so far in this list. But since it streams in fantastic quality, the lower FOV is acceptable.
All in all, the whole underwater set by Eyoyo is a pretty solid buy and is undoubtedly one of the best options available on this list.
Pros
• 8-hour long-lasting battery
• 1000 TVL display
• It has a sun visor
• Adjustable IR LED lights
• IP68 dust and waterproof lens

Cons
• Slightly low visual angle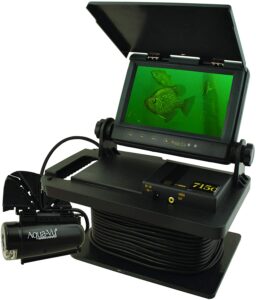 Key Features:
7-inch high-resolution monitor
RCA video-out port
Opti-RX lens
Invisible Infrared lights
Sun visor
Includes a travel bag
Halfway through our list of the best underwater camera for ice fishing, we encounter another Aqua Vu product. The Aqua Vu 715c underwater viewing system is the first bulky and high-tier underwater camera set on this list. If you're a heavily experienced angler with a whole lot of equipment by your side, then this is the right underwater camera for you.
The monitor is attached to the cable holder; this makes the monitor way bulkier and harder to carry as a compact item. However, Aqua Vu provides its official travel bag to carry the 715c underwater viewing system. The cable is 50 feet long, which is sufficient for ice fishing.
The Aqua Vu 715c has a built-in sun visor on top, which helps a lot as, during winters, the sunlight can cause screen glare if it does not have any shade over it. The screen is waterproof and has a sunlight viewable feature, so it is safe to use during harsh environmental conditions.
The camera is shaped with fins on top; this intelligent design allows the user to control the camera smoothly underwater. The Opti-RX high-quality lens is one of the best we've seen on the market. It displays smooth, high-quality video quality. You can even attach an RCA cable and show the underwater footage on a different screen.
You can adjust the infrared lighting from the screen to match the visibility limits inside the water. The camera set is multi-season compatible and can be used during winter, summer, boat fishing, ice fishing, and freshwater fishing. In addition, a 7-inch crisp clear display will make fishing more fun and more accessible for you!
Pros
• Weatherproof and waterproof
• Smart camera design
• It comes with a travel bag
• Adjustable lighting
• Larger 7-inch display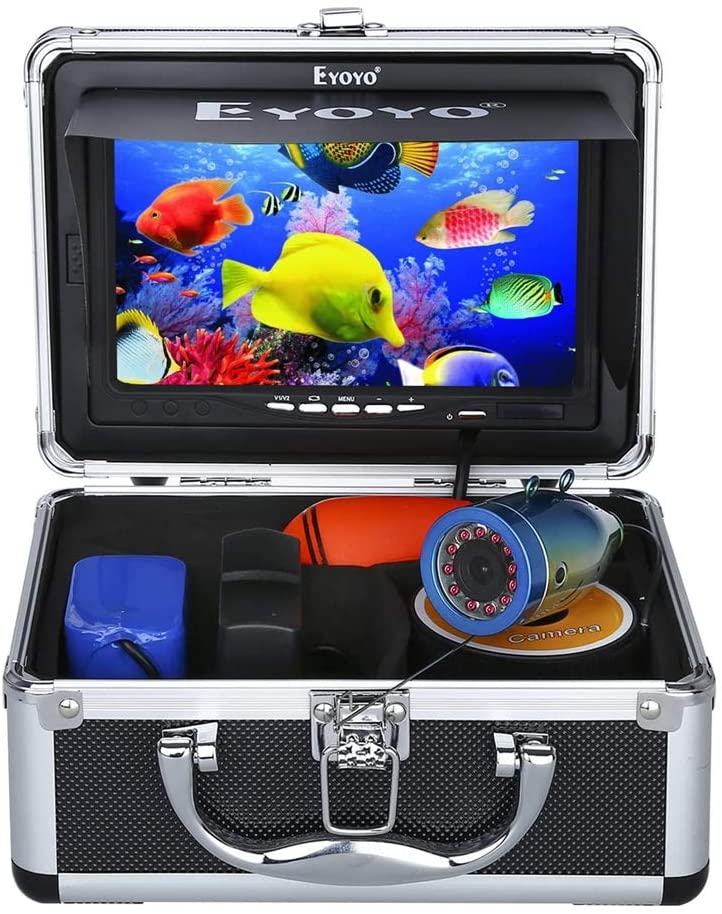 Key Features:
7-inch screen
4500 mAh battery
Carrying case
12 infrared LED lights
8 hours battery life
15m cable
The Eyoyo Portable 7-inch LCD underwater fishing camera is a great portable and all-in-one design. The set is designed as a portable case with a carrying handle, and the monitor is built-in inside the case with a detachable sun visor. The lower section of the case holds the cable, camera, battery, charger, and afloat.
The lithium 4500 mAh battery can last for up to 8 hours. The unique design makes it easy to carry around and relatively easy to operate. The screen is 7 inches which are larger than usual. The screen displays a clear-cut quality of 800×480 resolutions, and it also emits one of the best color sharpness we've seen. 
The 1000 TVL camera is the same as the one we reviewed with Eyoyo portable underwater camera. The Eyoyo 7-inch fishing camera is one of the most popular products and has tons of excellent reviews. The camera has built-in 12 infrared LED lights, which is an essential component in an underwater camera. The infrared LEDs work amazingly in the dark depth of the water. It is also great for night fishing.
The case also holds a 15m long cable which is slightly lesser than the ones we've reviewed. But honestly, 15m isn't bad at all; you will easily swim across the lake depths with ease.
All of these fantastic features make this one of the best underwater cameras for ice fishing. The compact case design makes it extremely easy to carry around with all of its accessories, and the 7-inch screen helps display a bigger and clearer picture.
Pros
• A durable, strong case
• Smart battery life
• 7-inch screen size
• 12 pieces of IR lights

Cons
• The battery heats a little when charging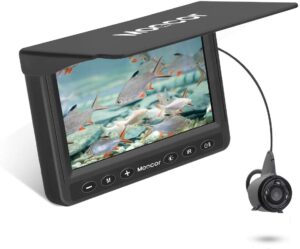 Key Features:
4.3-inch LCD monitor
1000 TVL Camera
15m cable length
8-hour battery life
130° visual angle
Once again, we're back to the usual 4.3-inch sized screen on this excellent Underwater Fishing Camera by MOOCOR, which comes in a simplistic design. The all-black body will look great with your fishing gear. This camera is a perfect option for people who are looking for something lightweight and efficient at the same time.
The screen comes with a built-in sun visor which is extremely important for when the sun rays get too freaky with the monitor screen. The LCD has a few functioning buttons on it, allowing the user to adjust the backlight brightness and the contrast and brightness of the screen.
Other than that, there's an IR button that turns the infrared lights on and off on the camera. The HD LCD streams a tremendous visual and colorful display. There are a 15m long cable extended from the screen, which holds the camera. MOOCOR has included a clip-on fin which has two hooks on the bottom where you can add weight. 
One of the best features of the MOOCOR Underwater Fishing camera is its battery life. It only charges in 4 hours and can work up to 8 hours, which is an excellent charging-to-use ratio.
MOOCOR camera also supports 4x zoom while taking images, and surprisingly the zoom doesn't deteriorate the image quality. The camera also holds 3 Infrared LED lights which is a bit less than the other cameras, but they still do a great job in illuminating the dark depths of the water. The simple IR power button also makes controlling the IR lights easy. The camera has a capacity of 130° of visual angle, which is more than enough.
If you're someone who wants high-quality images and videos while fishing, then this is the perfect option for you.
Pros
• Wide 130° FOV
• Easy controls
• Simple and compact
• Amazing battery
• High image and video quality

Cons
• Cable quality is on par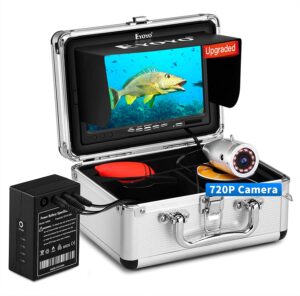 Key Features:
7-inch screen
12 IR lights
1024×600 resolution
30m cable
8GB TF card
Wide-angle of 178°
Eyoyo comes in with a beast of an underwater camera this time around. We already saw two Eyoyo underwater cameras, with one of them being in a carrying case. This one comes inside a carrying case as well. The case is all silver and relatively compact, and straightforward to carry to your fishing spot. Fortunately, the case can hold all the accessories within it.
The Eyoyo underwater case has a built-in 7-inch monitor, which has a sun visor on top that can be detached if needed. In addition, the screen gets a considerable upgrade over its predecessor model and can now display at a beautiful 1024×600 resolution. With that, it also has an all-new viewing angle of up to 178°.
Eyoyo also provides a free 8GB TF card, although the product can hold up to 32GB card at max. The 4500 mAh battery allows 6-8 hours of continuous usage, which is the typical figure as we've seen by now.
The camera gets a massive upgrade along with the screen, and it now has 1280×720 resolutions. The new camera allows the images and videos to be in 720p quality, and that looks amazing on a 7-inch screen. Now you can view the underwater activities clearer than ever before. In addition, the camera now has a few convenient hooks attached to it, and you can use them to add weight to the camera or even bait. 
The camera holds a whopping 12 pieces of infrared light, which dramatically increases visibility in dark, murky water. The New Eyoyo underwater fishing camera does not require a third-party player anymore and can now be directly played on a browser. 
The Eyoyo newer version of the 7-inch underwater camera is as good as it can get. With all the needed features and some fantastic upgrades, this product should be a serious contender on your shortlist.
Pros
• Amazing high-quality display
• 178° viewing angle
• Compact and easy to carry case
• Bright illuminating infrared LEDs

Cons
• A silver color case can get dirty easily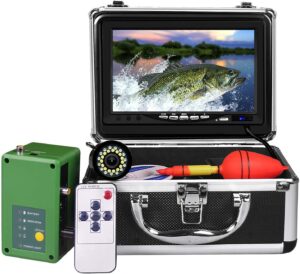 Key Features:
7-inch 1080p IPS Monitor
16GB SD card
30m long cable length
Includes a remote
Adjustable 30 pcs Infrared and white LEDs
The OKK Portable Underwater Fishing Camera case is one of the best underwater cameras for ice fishing. Like we've seen before, the OKK portable underwater camera also comes inside a carrying case. The case is all black with silver borders and a handle which gives it a nice look. So without any further ado, let's now check out its features.
The monitor is by far the best we've seen on this list. It displays in an amazingly sharp quality in 1080P resolution. This kind of video quality is not that common when it comes to these underwater camera monitors. The addition of a free 16GB SD card will allow you to record and save images and videos right off the bat.
OKK has also added in a remote to control the LCD, so you can set your rod upon a holder, place the camera with the bait and comfortably watch it on your remote-controlled monitor. The case also holds a rechargeable battery that lets the camera work for 8 hours when fully charged.
The IP68 waterproof camera is anti-corrosive and impacts protected as well. OKK uses a high-quality camera that depicts and uses the 1080p resolution of the monitor. The camera has the max range of infrared lights we've seen so far. It holds 30 LEDs, out of which 15 are infrared, and 15 are white LEDs.
You can switch between the light modes based on the water conditions. Either way, the high capacity of these LEDs does more than enough to illuminate the surroundings and present the clearest of displays on the monitor. Also, the cable is 30m long, which is excellent for any casual fisher.
If you want a powerhouse with high-definition quality, then look no further because the OKK Portable Underwater Fishing Camera is all you need.
Pros
• 30 pieces of LED lights
• A fantastic display of 1080p quality
• Neat and compressed case
• Easy to use remote
• It comes with a 16GB SD card

Cons
• Bulkier than most underwater cameras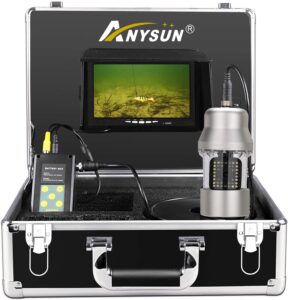 Key features:
7-inch TFT LCD
360° rotating camera
20m cable
Adjustable 38 pieces of LEDs
4500 mAh battery
Anysun is a business that specializes in underwater cameras, so we should include one of their cameras on this list. The Anysun Underwater Fishing Camera has a bulky, rather large carrying case, at least one of the largest we've seen. If you're traveling with your whole fishing setup at the back of your car, carrying the Anysun case won't be much of a problem.
The 7-inch monitor displays images and videos at 1080p quality, which is a fantastic feature to have. So you'll be able to see the underwater surroundings and fish in sharp, vibrant, and unmistakable quality. The screen can be mounted inside the case, and you can even attach the sun visor to enhance visibility during sunny days.
Once you buy the Anysun case, it will include a monitor, camera, battery, charger, cable, and a user manual. The battery works as a control box, and you can control the camera from the buttons on the battery. Since the camera has a 360° angle, you can rotate it left and right using your battery controls. The wide-angle is a fantastic feature and makes ice fishing so much easier.
The camera has 38 LEDs on it, which is by far the most we've seen till now. Twenty of these LEDs are IR, and 18 LEDs are white. You can control the LEDs from the control box. The camera Anysun uses the Sony CCD 800TVL, it's not the strongest we have seen till now, but we assure you that a Sony camera will not disappoint.
The battery can last up to 10 hours which is terrific for long ice fishing trips. The cable extends to 20m which is sufficient for intermediate ice fishing. Anysun's cables are weather and water-resistant and are pretty durable as well.
Anysun introduces a unique camera with a 360° view angle, allowing you to effortlessly control the camera and examine the surroundings. This is an outstanding option if user-friendliness is key in your eyes.
Pros
• Battery lasts for a long time
• Smart 360° viewing camera
• Very simple to control the camera
• 1080p resolution screen
• High quality and numerous LEDs

Cons
• One of the most expensive choice on this list
Buying Guide for Underwater Fishing Video Camera
Buying a tech product can be a bit hefty. In addition, there are tons of different specifications and features that you don't know about out, which makes buying the best underwater camera for ice fishing even more challenging. Luckily for you, we already reviewed the best underwater cameras for ice fishing, from which you've gained some relevant knowledge about the nits and grits of a camera.
However, before you end up picking your top product, we highly recommend that you go through the following factors that you should consciously address before making the final purchase. These important buying guide factors are:
LED lights:
Lights may seem unnecessary right now, but it is one of the pivotal ice fishing points. The sunlight is very little inside the water on frozen and icy lakes, making visibility almost impossible from the naked eye through a hole. The only way you can see underwater is by using a camera with LED lights on it. So, it's essential to pick out a camera with a good set of Infrared LED lights on it.
Screen Size:
The primary screen size that we saw was 4.3 inches. If you're fishing and looking at a small-sized monitor simultaneously, you'll end up missing details, or you'd have to focus hard to make out what's going on the monitor. So, it's much more favorable to choose a 7-inch sized screen if you're placing it on the snow bed or the side. If you plan to mount it on your rod, then a 4.3-inch screen size would be good too.
Sun Visor:
The sun visor is not just for visuals because it plays a crucial role during an ice fishing session. During the day, ice fishing can get a bit tricky if you're using an underwater camera; the sun glare can completely block out the display on most of the screens. As a result, sun glare will create an inconvenience for you. So to get rid of this problem, it's safer to opt for an underwater camera screen with a sun visor on top that would block that sunlight.
Resolution:
Low resolution on a basic underwater camera screen would bother most of the anglers. Plus, a high-quality display gives a whole new kind of joy for the angler, so it's better to choose something that creates and displays the underwater views in superb quality.
Price:
Lastly, nothing can influence your buying more than price. Most of the underwater cameras cost around $150-$250. The price varies depending on the features and brand. It is crucial to assess the budget you have before making the ultimate choice.
Editor's Pick and Conclusion
Although the list contains some fantastic ice fishing cameras for us, some of them stand out among the rest. The first one that stands out amongst all its competition is the OKK Portable Underwater Fishing Camera. The easy-to-carry case with some unbelievable high-quality resolution and display soundly surpasses all the other cameras on this list. In addition, the added 16GB SD card with remote control makes using this camera even more fun.
As for our second top pick, we have picked out the Aqua Vu 715c Underwater Camera. One of the reasons we picked this is how reputable and consistent Aqua Vu has been in the underwater camera industry. Besides that, the 715c underwater Opti-RX camera captures a superb quality display, and the travel bag makes the whole package even better. Other than that, the intelligent, invisible IR LEDs are impressive and unique, and their long-lasting battery is best for comfortable, relaxing ice fishing trips.
This calls us towards the end of this article. We poured out all the relevant and essential information about the best underwater cameras for ice fishing we could find. From compact monitors to a whole carrying case, we hope that you end up finding what ideally fits your style so gear up and enjoy ice fishing in a much better way.
Related Queries
How do you use an underwater camera for ice fishing?
Underwater cameras come along with a thick, robust cable that varies in length. You can simply turn the camera on and clip it on the cable, which will display the camera's view on the monitor while the cable helps descend it into the water.
Are underwater cameras suitable for ice fishing?
Ice fishing is usually done after digging a hole and throwing in line with attached bait. It is impossible to judge and see inside the water in these circumstances due to the snow and ice. However, underwater cameras let you gaze inside the dark depths during ice fishing.
Do underwater cameras scare fish?
The underwater camera does not scare fish at all. The only thing that can end up scaring them is the LED lights. If you turn the lights on or off in front of a fish, they will get scared.
How far can an underwater camera see?
Underwater cameras render distance ranges differently in different brands. Some cameras carry enough power to be able to see further. However, the vision also depends on the state of water. In murky or dirty water decreases the vision of underwater cameras immensely.