Best digital aquarium water testers come with many latest features and conveniences than the strip ones in the market. The important thing is that it provides accurate results without any doubt. In previous models, they were color-oriented, and it took so much time, but in a digital aquarium, a water tester is much more efficient and impressive than that. However, we want to discuss the complete details, including their beneficial characteristics and cons, at the same time. 
Digital aquarium water testers comprise batteries in them, some of them are chargeable, and for the rest of them, you have to change the battery after a reasonable period. In contrast, both of them are durable and user-friendly. 
If we talk about the readings, then they are highly precise regarding water quality. You don't need to compromise on the water texture, color, and all requirements. Just check through it and go for the change. 
There are variations in the types of water testers. Usually, in most products, a small amount of water from the aquarium is required to add powdered or liquid-based chemicals. This chemical is called a reagent. Next, just place the mixture into the tester, and the results will show up in an exact figure. With, pros there are some minor drawbacks and precautions that you must know before having a product.
At first, they will cost you a lot compared to the other standard ones in the market. Also, they do not go for all the requirements at once. You will have to buy ammonia, nitrate, and others, all separately. As the reagent chemical is required for the testing procedure, you may have to use or buy a new one every time. That is very effective also a minimum amount would be perfect for use. 
Top Picked Best Digital Aquarium Water Tester
For professional standard digital testing in an aquarium, we suggest;
Industrial Test Systems 486201 Pool Exact EZ Photometer is ideal for digital testing. It ensures to provide an accurate number without any wrong interruption. It is highly convenient and durable. The detection part detects from a wide range for better results which is the most efficient and user-friendly characteristic. Not only does it serve aquariums, but it is also highly suitable for drinking water.
Bluelab PENPH is also one of our favorite, the best feature through which it is highly recommended is that it is entirely waterproof. Usually, the main reasons for ruined products are that they can't survive long in the water. The situation is essential, and it works perfectly in the water. Overall, it is long-lasting with enhanced accuracy in the product.
TDS Meter Digital Water Tester also comes in 3 in 1 feature that comprises variations in this digital meter. It comes in a digital fish tank water tester, digital saltwater aquarium tester, and drinking water. Also, the measurement range is wide enough to cover most of the characteristics of water.
Let's get into the details of the product for the best digital aquarium water tester.
1) Industrial Test Systems 486201 Pool Exact EZ Photo-meter
Key Features:
ASIN: B00M1ES230
Dimensions: 6 x 3 x 10 inches
Weight: 8 Ounces
Battery: 4 AAA 
Model Number: 486201
Length: 5.6 inches
This product is considerably convenient to use. It absorbs precise and exact chemicals without allowing it to harm or reduce the quality of water. It ensures to deliver the results through the best methods, including other modern or latest technologies that supply speedy, secure, uncomplicated, and more accurate testing results, through a digital aquarium water quality monitor. That's why you are not required to wait for a longer time to show your actual results. Also, that strip method has become older, so colors are not needed here.
A wide range of detection always helps to enhance the product's accuracy while making the testing procedure easy and more user-friendly. The entire acidic, basic, alkalescent oxidization depends and comes in it (10-2000 ppm). Chlorine is from 0.0-12 ppm, whereas Cyanuric Acid is from 1-110 ppm. Phosphate varies from 0.2-3 ppm, and calcium ranges between 20-700 ppm. According to the observations, the pH level lie between 6.4 to 8.4 is ideal and beneficial.
The manufacturer of this product is the exact product, a trusted and recommended by the professionals. The material used in the construction is plastic. For quite a reasonable time, the brand has served in the market and considerably maintained its reputation due to top-class quality. It has a photometer and cleansing brush with other equipment for a more accurate procedure.  
They are very particular regarding quality, for which they have ensured that they should test the intrinsic and essential elements to verify the quality persona by every portion. 
Aquarist wants durable and quality providing products. Overall, this digital tester has tested professionally and lies in the demands efficiently. The exciting part is that it has a two-year warranty that ensures reliability and builds trust between buyer and seller.
Pros:
Detection is very considerable
It comes with a two-year warranty that ensures the durability of the product.
Comes with a broad range with multiple variations in detection.
The chemical used in the process is harmless
Cons:
It won't able to work efficiently in pools or giant-size aquariums
2) Bluelab pH Pen Aquarium Water Tester
Key Features: 
ASIN: B005POOJHG
Dimensions: 8 x 2.16 x 0.98 inches
Weight: 4.3 ounces
Model Number: PENPH
Power: 1 x AAA alkaline battery supply
If you are an aquarist and religiously follow the aquarium and its equipment-related brands, then you will probably know about Blue-lab. It is one of the digital freshwater aquarium water testers and the most prominent brands in this industry for over three decades. Many professionals and several customers highly trust it. So firstly don't worry regarding the quality. Their technology is super effective and advanced, which helps producers to be lavish and unlatch their plants.  
In this company, the manufacturers think and practically apply the product design with lots of dedication. That's the reason behind the solid and durable quality of the tester. 
The pH measurement and its perfect range are fundamental if you want accurate results. In this, they measure the pH through alkaline solutions and conditions. They ensure to have a precise one. The body has detailed adjustment permits that are highly eligible for giant-size aquariums, lake water, drinking water, plant growth, and much more. It comes with a vast limit for usage.
Bluelab PEN PH electronic aquarium water tester has a very convenient 2 step standardization with automatic-bases temperature adjustments. It is the thing that makes it super cool and comfy just to handle it like a screw in hand. For display, it has an LED display at the front with details clearly shown up. It also comes with a dual junction examination that enhances the accuracy, in no time. It is highly durable and explored enough which makes it better than its relevant ones in the market.  
The specialty is that it shows on the display when the battery is low, which is helpful to get it to charge before the actual time. If you forgot to make it after use, it would be automated, and it provides a one-year time limit for a warranty.
This company is New Zealand based one of the most extensive productions leading companies in this industry.
Pros:
It comes with two steps checking for commendable adjustments
Auto-based LED that shows the testing results, and battery indication, including other details.
It is suitable for pool water, drinking water, and aquarium water
An automatic shut-off feature is available.
Cons:
The units in this meter got deactivated some time, which is quite irritating.
3) Lxuemlu Professional TDS Meter Digital Water Tester 
Key Features:
ASIN: B079DN9DRS
Dimensions:6.3 x 1.1 x 0.6 inches
Weight: 0.64 ounces 
Model number: LX-TDS1
Batter type: Lithium Manganese Dioxide
This TDS is well-known and another major in our list of best digital aquarium water testers. It comes with a multiple and ongoing list of so many compelling features. TDS goes great for all types of detection and cleansing processes, whether in the pool, giant tanks, aquariums, or filters. It purifies and works hard in aquarium water testing to improve the quality of nutrients, ammonia, and other related chemicals. We all know that any digital water tester cannot beat the accuracy of the proper scientific instruments. 
But it is excellent if you find a product that can provide you with almost near the precise one. In design, it looks like a broad pen and is very easy to carry and use, known as a handy tester. The brand is hugely sig regarding the quality and its exclusive features.  
Their motto is "Make the complex easy." They hold a big name and trust by their clients through the techniques due to modesty, sincerity, and loyalty. If your product team has got you, making your procedures easy and reliable, then that means you are at the right place. They have worked so professionally and tested as well to enhance the quality of your water positively.
There would be a button at the top of the product. After pressing it, you can place the tester into the water, and it will tell you the complete details, including temperature, quality, etc. It has a digital aquarium water quality monitor. The use and features are not complicated at all, and they are fundamental and convenient to use. After placing it in an aquarium, make sure that it dips there for at least 1 to 2 minutes, and you will get the readings right away. It is very precise and does not require any high-level support or conservation. Overall, the product is a bit rough but is still extremely sturdy, and comes with a protector.
Pros:
It has an automatic on and off the system, which saves your battery
It comes with a broad range of measurements that varies from 0-9999 ppm to 1 ppm.
The quality is top-notch, with precise and accurate readings.
Cons:
The external portion of the tester is a bit uneven
A little crusty product
4) Taylor Precision Commercial Waterproof Digital Meter
Key Features:
ASIN: B00009WE45
Dimensions: 1.38 x 1.18 x 7.09 inches
Weight: 1.6 ounces
Source of Power: Battery
Now, we have another tester on the list of best digital aquarium water testers. The brand of this product is named Taylor Precision. It is not only a well-known but also a very compatible product. It is a digital product that ultimately depends upon battery power. You need to charge that after every one or two uses. 
The highest temperature it can record and check in the water is 450 degrees far. Most people misunderstood that this is only suitable to operate and measure the temperature. At the same time, it goes excellent for testing the aquariums, including pool water, drinking water, etc. 
It has been significantly designed to avoid unnecessary abruptions. It is strong enough to resist water for a more extended period, without any issue. Make sure to not dip it entirely in the water; the tip of the tester is enough to measure and record the details.
If the functionality slowly drifts off, the needle requires an accurate and latest reference point called Recalibration. It majorly plays its part in the most enhanced precise measurements. For the safety of your pets and other aquatic organisms, you must ensure that the tester is completely clean and sanitized. 
The use is very convenient. You don't need to be techy, as it is elementary and easy to understand. The display size is also big enough by you can see it from all the sides. 
Pros:
The response time is firm that the average lie between 5.2 seconds.
It can remain for a longer time in the water without getting defective.
Good for high temperatures
The accuracy range from multiple temperatures to various degrees.
Cons:
It does not allow the user to use it for giant-size aquariums
5) Apera Instruments AI311 Premium Series PH60
Key Features:
ASIN: B01ENFOIQE
Dimensions: 7 x 1.6 x 1.6 inches
Weight: 4.59 ounces
Source of Battery: 4AAA batteries 
Model number: AI34
Length: 7 inches
The manufacturer company of this brand is Apera Instruments, LLC, a well-known name for their pen-shaped capable instruments and testers. They have built it with a lot of sensitivity and corporation in the tester. If the quality isn't perfect, you won't be able to have accurate results. The more substantial rate, the more precise results you will get on this best aquarium water test kit.
Opera is very particular for all the details, including temperature settings, etc. At the time of manufacturing, they have some water in the electrode of the tester. So don't worry about it if you get some drops coming out from the tip at the first use. It has been applied to maintain the sensitivity of the product. The accuracy also lies in a wide range; as it is pH 0.01, it ranges from 2.0 – 16.0 pH, whereas the other temperature lies between 32 to 122 F.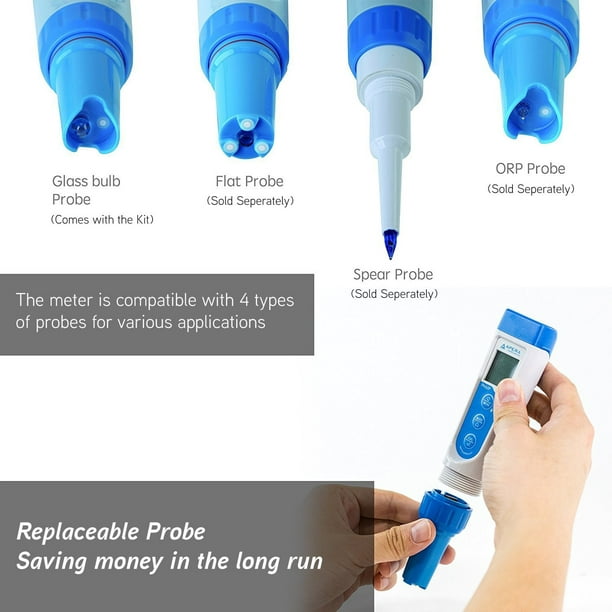 Interestingly, it comes with an automatic on and off function that saves your battery and makes it more durable. The convenient 3 in 1 automation point that comprises calibration identify different types of solution and categorize them in 1 – 3 columns. The temperature plays the perfect role here, as it changes according to the requirement of the automation feature.
The probe in this best aquarium test kit is made up of top-notch quality with a changeable ability feature in it. It goes for all kinds of water testing, like solutions, drinking water, pool water, even beverages, hydroponics, etc. And for the results, show up on the LED right in the front of the tester. It has three different backlit colors that help to mention different categories and modes for your convenience. This display has portions as well, which separately show temperature, readings, and pH level.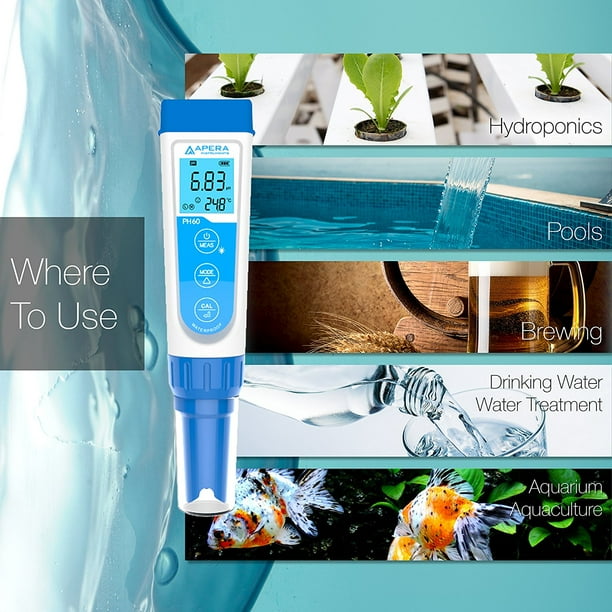 Pros:
It comes with an LED display
The tester is ready to use after buying it
It is straightforward to carry around the home,
Convenient without any irritation or uneven external portion
Covers a wide range of pH
Cons:
The accuracy is not satisfying with its range
Buying Guide on Best Digital Aquarium Water Tester Kit
As you have read the complete article regarding the Best Digital Aquarium Water Tester, you might be ready to take the final decision on your tester after all the specs and details now. However, we have explained every product in particular with its pros/cons and other specifications to help you make a better and more convenient decision. 
Just going to the market and picking one isn't away. Various things are required in a product. Every tester is different from others, except for some basics. For that reason, to further assist you, we have concluded the more essential details and facts with a guide so that this buying guide will help you out with basics, so please have a look at it.
Related Info: Best Fish Finder Reviews
Affordability:
The first thing first we will like to mention is its affordability. People ignore this fact, but it shouldn't be. In the complete article, we have repeatedly mentioned following regular testing procedures. For that, the product must be top-class. It won't be wrong if you buy an expensive and exclusive tester. In this way, the seller provides a long-term warranty with durable quality. 
Here, we are discussing digital ones, but still, it goes for both simple and this one. The chemicals are used to calculate the measurements and other essentials like temperature and complete most of the product. Try buying it once, rather than ordering it every other day will cost you so much. In this case, the more you will invest, the more efficient and durable results you will have.
Accuracy of Testing:
It is very significant and necessary to look upon you must think about the accuracy rate particularly. Every digital tester promises to give you an accurate reading, and it is far better than the strip ones in the market. Also, if they are digital, that doesn't mean that they will give a precise result.
Most people think that it is stupid to think about accuracy if the one isn't accurate. But the thing is that it will give you the result that has been scientifically proven and is much near to the actual products you may get through a laboratory. 
So here, while buying a tester, try to have one that will at least touches the label to the accurate one that will help you a lot regarding the healthy lifestyle and safety of your aquatic organisms and especially fishes. It also goes the same for drinking water, pool water, and giant size aquariums.
Convenience in Use:
No matter how vital the accuracy is or how super and affordable solid the product is. In the end, you will prefer the highly convenient one. The best outcome would be that it is easier in the method of testing. 
In some digital testers, you have to dip it for longer, deeper, and for some 2–3 seconds. It depends on the product. Overall, this digital product has been made to overcome the difficulties for aquarists and testers. Sometimes, it gets irritating from its external portion. Try to avoid them. Most of them are very near at hand and easy to carry. A more lightweight and compact size would be recommended here.
Importance of Digital Water Tester
A digital water tester aquarium is essential and plays a significant role in the quality check balance of water. Even your pets need it. No matter from which species they are, all they require is healthy living.
Before testing aquarium water, let us tell you that you generally can't check your water quality as it is incredibly complicated. It comprises different chemicals, organisms, minerals, grains, etc. It could be healthy and harmful at the same time, without even knowing you. 
For a better and safe experience, use scientifically proven methods to avoid some massive disasters. Also, it would not be right to eliminate all the minerals and chemicals on the spot. Understand the difference because most of them are incredibly healthy for aquatic life. The same goes for water, and super-filtered water isn't that healthy for fish. They demand something in the medium for a natural living. It also depends on the species and the habitat from which they belong. If they are from rivers, then in their surroundings, their concentration must be maximized with pH level, acids, and base. 
With all these misconceptions and so many requirements, the best solution is to use a water tester. It would help you recognize the concentration, including temperature and water quality, that helps build a healthy living for your aquatic organisms. Also, the results won't be in doubt. At least, you will get the exact details that are scientifically proven. 
We want to add that it saves you from all more significant bad happenings. It keeps you updated with every condition of your aquarium and water. Significant disasters don't occur in a day or a short period. If you have started taking precautions at the right time, this won't take place. The professionals suggest daily base testing for top-notch quality in a tank. 
FAQs Related To Digital Aquarium Water Tester
Conclusions
Before Investing in the tester, you should thoroughly know the details, including the Best Digital Aquarium Water Tester values. It is the best way to minimize your stress and concern regarding your aquarium, pool, or even drinking water. The fishes and other aquatic organisms' health and safety depend upon the water quality. Now, it's time to choose which is according to your preferences and which is not. You need to go and read the entire article to understand the essential points better to buy the digital aquarium water quality tester.