Taking care of your eyes is essential when you're out and about. The sun's rays can ruin your vision when you're outside, especially fishing. It's vital to examine the whole lake without any interference and assess where your desired game is. No one wants the sunlight to hinder their experience when it's sunny. So, keeping this in mind, we've come up with a list of the best-polarised fishing sunglasses to give you a smooth experience and protect you from any harmful sun rays.
An experienced fisherman will feel bling without polarised fishing sunglasses on a sunny day. It gets effortless to scan the lakes and rivers with a good pair of sunglasses to find any shallow water fish. Fishing sunglasses are sporty looking, which means they won't only benefit you when you're fishing. You can even wear it during other activities like hiking, biking, running, etc. The primary purpose of polarised glasses is to block any sunlight that hits your eye and worsens your vision. Sun glare can get annoying, and securing the sunlight with your hand would make it harder for you to fish. Therefore, polarised sunglasses do the job for you when you're outside on a sunny day. There are plenty of options to choose from when it comes to sunglasses; we've picked out the top 5 best fishing sunglasses to make it easier for you.
Best Polarized Sunglasses for Fishing
Before we get into the delicate details of these products, we will share our opinion on what we think are the best-polarised sunglasses for us. 
The perfect fit for us as the best lenses for fishing is the Faguma Sports Polarized sunglasses. These are all-rounder shades and hit all the necessary spots that a fisherman needs. From providing a vast range of colors to some high-quality polarized and UV-protected lenses, you'll comfortably examine the waters and fish without the sun-blocking your vision.
As for durability and comfort, nothing can beat the KastKing Seneca in our eyes. It's genuinely the most thoroughly tested and flexible frame we've seen. The Grilamid frame is resistant to heat, UV, and chemicals, and it's incredibly flexible. The Seneca are by far the most durable set of fishing shades you'll come across on the internet. 
Fishoholic Polarized Fly Fishing Sunglasses:

Key Features:
Lens width: 2.37 Inches
Composite Lens
Flex Tuff frame
Mirror coating
UV400 Mirror
Fishoholic polarized fishing sunglasses are the first ones that make up our list of the best fishing glasses. The Fishoholic polarized fishing sunglasses we're reviewing have a gloss black frame with blue mirror glass. Still, Fishoholic provides other colors like camouflage, matte black, and gloss black with different lens colors.
Fishoholic sends their polarized fishing sunglasses in a zipped semi-hard glasses case, which presents a Fishoholic logo on top. Inside you'll notice a pouch that holds the polarized sunglasses. There is no lens cleaning cloth. The pouch itself is soft and made from a material that is meant to be used as a lens cleaner. 
The FlexTuff composite frame impressed us a lot! Fishoholic did a fantastic job at making a long-lasting and rigid pair of sunglasses. The frame can be twisted in various directions, and it won't break at the first bend. In addition, it holds its build down very well and is undoubtedly meant to be durable.
The frame has thick wide sides, which are not just meant for looks but are made to block the side glare as well. The wide sides give you a smooth and comfortable view of the lake when you're fishing. Extended hours under the sun can affect your eyes or the skin around them. For that, Fishoholic has got its lens approved and tested for UV400. UV400 ensures that it gives complete protection against ultraviolet lights and keeps your eyes safe. UV protection also protects against rays of electronic devices.
The blue lens enhances your vision and gives your eyes a comfortable vision at the same time. Its sole purpose is to emit a relaxed vibe to the user, and the blue color was the best fit for that. Fishoholic also claims that their sunglasses are suitable at any time of the day under any weather. Plus, they also provide a three months guarantee, which is a nice gesture.
We think the Fishoholic sunglasses do a pretty great job at improving a fisher's experience while being comfortable and lightweight. The sides may seem a little big and not too appealing. However, that doesn't take away the fact that it does a fantastic job protecting your eyes and is worth checking out.
Pros
1. Very flexible frame
2. Cool blue lens
3. Block side flare
4. It comes with a convenient lens cleaning pouch

Cons
1. The design may seem a little uncool
KastKing Cuivre Good Fishing Sunglasses: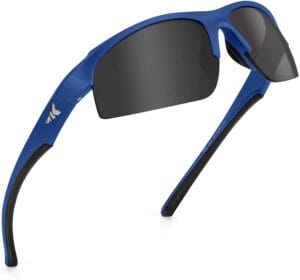 Key Features:
Lens width: 2.7 inches
Blocks UVB and UVA rays
Grilamid Frame
Anti-slip nose pads
Polycarbonate lens
We're all familiar with KastKing when it comes to fishing equipment, and a good pair of polarized sunglasses is essential when it comes to fishing. To counter that, we've included the Cuivre Polarized sport sunglasses by KastKing. The Cuivre sunglasses come in various colors too. This set of glasses also comes in assorted frame and lens colors.
A tough hard black case holds the sunglasses inside. The case is durable and looks good, and an orange zip line is used to keep the sunglass inside. Just like the Fishoholic sunglasses pouch, the Cuivre pouch is also made out of material that you can use to clean the lens. 
When we look at its body, the frame is semi-rimless; this gives it a sporty look. A semi-rimless structure means that there is no frame border beneath the lens. The frame is very exquisitely made and smoothly fits on your face with its flexibility. In addition, the anti-slip nose and temple pads make the fit even firmer. It helps keep the Cuivre sunglasses in place during physical activities. The pads also add to its comfortability.
Kastking Cuivre sunglasses use a Grilamid Frame. This is a top-notch material for a pair of sunglasses. While keeping the frame lightweight, it also helps it against heat, rays, and chemicals. Like the FlexTuff frame, the Grilamid frame is durable and highly flexible and won't snap easily. It can be turned and twisted, but it'll return to its actual shape.
The polycarbonate lenses go through a double-D centering test. The lens is layered to help you protect against UV rays, and obviously, they are polarized, too, so sun glare won't affect you while fishing.
KastKing is by far one of the best fishing glasses on this list for sure. The sporty look and some fantastic features and safety measures allow it to be highly comfortable and durable, and efficient while being reasonably priced.
Cons
1. It doesn't block side glare
Faguma Sports Polarized Glass Lens Sunglasses: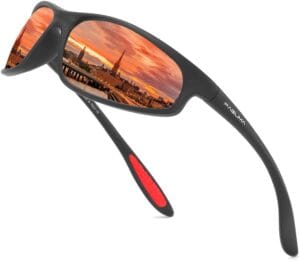 Key Features:
Lens width: 2.44 inches
UV400 Lens
Shatterproof
Non-skid pads
1.1mm thick lens
Faguma Sports Polarized Sunglasses hits all the marks of great fishing shades. The design is one of the bests we've seen so far. With various colors of lens and frames, you can go with whatever looks the best for you. These shades strongly remind us of the Oakley sunglasses Tom Cruise wore in "Mission Impossible."
The Faguma polarized sunglasses sit inside a hard bulky case with a strap attached to its side, making it easy to carry around. Inside you'll get a pouch; unfortunately, this pouch doesn't serve as a cleaning cloth. Instead, a cleaning cloth is provided separately. The box also carries a sunglasses retainer, which you can connect at the end of your sunglasses ' temple. This will allow you to take off your shades and let them have a hand around your neck without having to hold them.
A full black matted frame covers the glasses. In shape, it looks like a simple and fashionable pair of sunglasses. Their black and red frame looks classy, which is why we've picked this one mainly. The Faguma logo precisely sits on the side of the frame.
The frame is made out of plastic and is quite flexible, but we saw that the previous shades had specialized frames. So, a simple plastic frame seems quite essential in the description. However, it still is very reliable and flexible too. The structure, however, holds nice non-skid pads on the nose and temple, which guarantees a good fit.
The lens is where Faguma excels and does a fantastic job. The lens is composite UV400 and 1.1mm thick. It efficiently blocks all kinds of ultraviolet rays making it useful even in other activities than fishing. While being UV400, it is also designed with TAC polarized. This enhances its safe usage under ample sunlight, heat, and harmful rays and makes it incredibly strong.
In conclusion, the Faguma Sports Polarized glasses are a fantastic lightweight but the sturdiest lens choice you could pick out of this nicely put list of the best Polarised fishing sunglasses. The polycarbonate lens is scratch-free and can take a lot of impacts without breaking. Plus, Faguma even provides you with a month-long money-back guarantee.
Pros
1. Low price
2. High-quality Lens
3. Fashionable
4. It comes with a glass's retainer strap
5. Scratch-free polycarbonate lens

Cons
1. Simple plastic frame
INFI Polarized Coastal Fishing Sunglasses: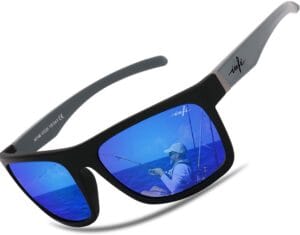 Key Features:
Lens width: 2.2 inches
Tri-Acetate Cellulose (TAC) Lens
Weather-resistant
UV400 protection
You won't find any sunglasses as classy as the INFI Polarized sunglasses. These pair of sunglasses look very fashionable, and we can assure you that you'll look fly while fly fishing. These sunglasses can be used whenever you're out because it doesn't inherit a sporty look that makes it suitable for casual use.
The INFI polarized sunglasses come in a solid magnetic case; unlike the others, it's made out of stiff cardboard material. The box is well made and classy but not very easy to carry on fishing trips. The box consists of a lens cleaning cloth, glasses retainer, pouch, and sunglasses.
The glasses come in a few different colors; we picked the black frame with a blue lens option because it fitted the fishing scenario. The frame is made out of plastic, but it's durable and flexible, just like the Faguma shades were. The pin hinges are made purely out of metal. All in all, the frame is quite sturdy and well built.
The TAC lens is fully UV protected. Just like we've seen with a lot of other sunglasses, the INFI polarized sunglasses also have UV400 in them. In addition, INFI didn't forget to polarize their lens, which is why they made it into this list. Combining these things makes it suitable for smooth usage while you're fishing or doing any other outdoor activities.
INFI also claims that the lens inside their glasses consists of TAC film as well. The TAC film allows it to transmit an excellent HD vision through the lens when you wear it. The lens is also mirror coated which protects it from scratches and makes it less fragile. The sunglasses as a whole do great under different weather conditions.
So, to summarize it all up, the INFI polarized sunglasses are the most designer-looking shades you'll find on this list of the best polarized fishing sunglasses. If looks matter a lot to you, then this purchase will go a long way, and you can even use it other than fishing. 
Pros
1. Classy look
2. Very Lightweight
3. It has an impressive HD Lens
4. Does well to resist weather conditions

Cons
1. No anti-slip paddings
KastKing Seneca Saltwater Fishing Sunglasses: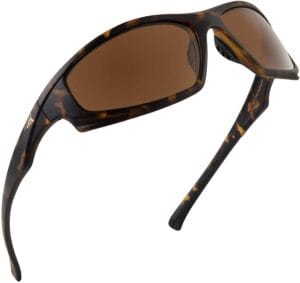 Key Features:
Lens width: 2.5 inches
TAC lens
1 mm thick lens
Grilamid frame
Anti-slip padding
Last to make it into our list is another KastKing shade, the Seneca. The KastKing Seneca is a bit similar to their Cuivre model, but they also have some differences which you'll be fully aware of by the end of this review. Nevertheless, these Seneca are great sporty-looking sunglasses that you can wear during multiple arrays of activities.
The Seneca comes inside the available casing of KastKing, which is black and orange-coloured, the same as the case of Cuivre shades. The case includes just the pouch, which has a convenient strap on it, and the sunglasses themselves. The pouch is used as a cleaning cloth as well for the lens.
The glasses acquire an aggressive look and easily fit all kinds of faces, thanks to the amazing Grilamid frame. The Grilamid frame highly impressed us before as well. Grilamid is used in medical and military equipment because of how helpful and valuable it is. As we mentioned while reviewing the KastKing Cuivre, the Seneca is resistant to heat, UV, and chemicals, and it is also highly flexible. You can completely flatten it out, and it won't break.
The lightweight design will not tire you even if you fish for hours. The innovative anti-slip pads on the nose and the temple make sure the glasses smoothly sit on your face. As a result, these pairs of sunglasses are extremely comfortable.
KastKing provides a detailed explanation of what each colour of the lens is helpful for. The model we picked is the matte demi frame with a brown lens. The brown lens performs impressively under sunny and partly cloudy weather. The TAC lenses are fully and thoroughly tested to ensure they don't give out any optical distortion that might cause headaches or eye strains. With UV protection and a polarized lens, you can quite easily fish for hours without any sun glare or harmful rays bothering you.
The KastKing does a fantastic job of providing you with another great set of polarized sunglasses to choose from. The unisex shades are not only excellent for fishing but are highly comfortable to wear for a more extended period; they are perfect for wildlife experiences.
Pros
1. Amazing flexibility and durability
2. Featherweight
3. Detailed lens designs
4. Clever anti-slip patterns around the frame
5. Great polarization

Cons
1. It May feel a little tight around the head
Buying Guide Polarized Prescription Fishing Sunglasses
For you to decide what you want to use to see the fish inside the water, first, you'll have to dissect some factors that play a significant role when it comes to fishing shades. Here are the main factors that you must consider before making your final verdict on a pair of sunglasses.
Lens Color:
A lot of polarized sunglasses come in lots of different lens colors. These may seem just for the appearance at first, but they're much more important than that. Each color plays a significant role in a specific weather condition. So, depending on where you live and the climate there, you should pick the lens color accordingly.
UV Protection:
All the lenses are polarized, but not all manufacturers inject UV protection into their lenses. UV protection helps block out any ultraviolet lights you might encounter, which ultimately defends your eye and the skin around it. So, it's helpful to have a UV-protected lens too.
Flexibility:
Flexibility is vital when it comes to fishing glasses. When the sunglasses are flexible, it reduces the chances of breaking the frame and helps fit all head shapes. Therefore, if the size is a concern for you, try finding a flexible frame of sunglasses that can quickly wrap around your head.
Anti-slip Pads:
Some manufacturers apply anti-slip pads around the nose and temple part of the sunglasses. These allow them to fit easily and not fall off. Especially if someone is living in a hotter area, they mustn't ignore the anti-slip feature because sweating will make your sunglasses slip if they don't have anti-slip pads on them.
Price:
Ultimately, nothing can influence your purchase more than the price of a pair of sunglasses. The sunglasses we included are well below $50, but still, every person has a different pocket capability, so it's safe if you ponder on the sunglasses that suit your budget.
Our Final Take for best Lenses for Fishing
That's our full and final take on the best polarised fishing sunglasses that you can pick from. It's time to step up your fishing game and give yourself the ultimate advantage by wearing polarized shades, so you can see the fish through the water without having the sun glare continuously annoying you. Well, we hope you go on now and make your anticipated purchase to become a better fisherman.
FAQ'S for Best Polarised Fishing Sunglasses
Can you see in water with polarized sunglasses?
Polarized sunglasses can help you see inside water bodies. The polarized lens immensely allows the fishers to see their desired fish's behavior and follow their path to fish them out. So, yes, polarized sunglasses help to make you see underwater.
Do polarized sunglasses protect your eyes?
Polarized sunglasses block the sunlight glare, which can cause optical distortion and make it visibly hard to see. In this way, polarized sunglasses help protect your eyes and keep them safe from glare or harmful rays.
Are polarized and UV400 the same?
No, they are not the same. The only common thing a polarized and UV400 lens has is that they protect your eyes. This is because the polarized lens helps out in blocking sun rays, whereas UV400 prevents ultraviolet lights, which affect your eyes and the skin around them.
Does lens color style matter on polarized sunglasses?
Lens colour is not to be ignored; each color is meant to perform well against a specific weather condition, e.g., a brown color lens works well in sunny conditions. So, it's essential to give importance to the lens color.