Bass fishing with spinning reel is one of the most popular acts among fishermen. A wide variety of bass subspecies and their availability in different water bodies make them one of the most caught fish. But before you dig into bass fishing, you do need a good spinning reel. Getting a spinning reel is the first step to catch a bass. Therefore we've lined up the best spinning reel for bass.
Spinning reels are something every aspiring fisher should have. The friendly usability, low prices, fewer chances of backlash, easy maintenance, and an open spool are unique features a spinning reel provides. A baitcasting reel is way more precise, but it's expensive and requires great skill as well. Nevertheless, every new fisherman is suggested to start with a spinning reel due to their ease and user-friendliness.
Without wasting any more of your time, let's splash into the world of fish and review some fantastic bass spinning reels.
Top 10 Bass Spinning Reels
KastKing Valiant Eagle Gold – Fishing Line for Bass Spinning Reel: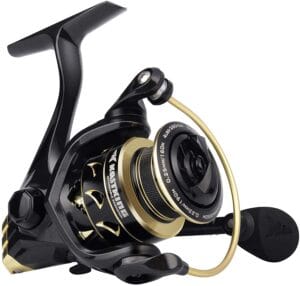 Features:
Sleek golden eagle design
Max Drag: 22 Lbs.
Weight: 10.1 oz.
Gear Ratio: 6.2:1
Aluminum handles
7+1 Ball bearings
KastKing is no stranger when it comes to fishing equipment, so we were confidently going to include their Valiant Eagle Gold spinning reel. The KastKing Valiant Eagle Gold has a fantastic design and outlay, and it is by far one of the best we've seen.
The sleek black and gold eagle-inspired design with a graphite frame makes it look beautiful. The Valiant eagle weighs about 10.1 oz which is considered a bit higher for spinning reels but is still relatively light on the fishing rod. Aluminum handles with EVA handle grips are considerably comfortable than cork handle grips. The handle feels soft and smooth.
The KastKing Valiant eagle reel is a solid option for bass fishing. Their '4000' size model can drag in a max of 22 Lbs.; this is good enough for a largemouth bass which usually weighs around 13-15 Lbs.
The gear ratio defines the times the spool turns per the reel handle being rotated. The KastKing gear ratio is 6.2:1, which is adequate and almost the best for bass anglers. Anything higher would've made it challenging, so the gear ratio is well sought out and applied on this spinning reel.
The 7+1 stainless steel ball bearings are top quality and provide excellent friction control and smoothness, and they won't cause any problems even if you fish for some hours.
The body isn't water-resistant, so you'll need to be extra careful. Other than that, everything is up to the mark, and its reasonable price makes it one of the best spinning reels to choose from.
Pros
1. Amazing design
2. Provides smooth fishing experience
3. Available in different sizes
4. Smart features

Cons
1. It is not water-resistant
Ghosthorn GT 2000 – Spinning Reel for Bass Fishing: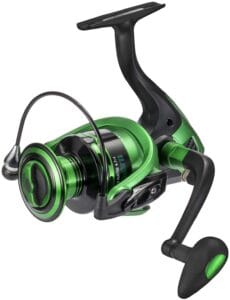 Features:
Max drag: 33.6 Lbs.
Weight: 8.6 oz.
5.1:1 Gear ratio
4+1 Ball bearings
Anti-twist line roller
One-year warranty
The Ghosthorn GT series offers a wide variety of spinning reels in different sizes from 2000 to 6000. The one we've picked is the 2000 size model, despite it being the lowest sized it still provides a good performance.
The ergonomic design and an exclusively black and green body make it pass the 'looks' test with ease. But how well does it fare when being used? It smoothly steps over most hurdles and provides an excellent bass catching experience due to its sturdy and robust built.
The Ghosthorn exceeds the KastKing when it comes to max drag. This 8.6 oz light weighed spinning reel can drag in a whopping 33.6 Lbs. due to the triple-disc carbon drag features installed in it. The Ghosthorn also has a braid-ready spool that will let you apply the line with ease. The anti-twist line roller will also play its role in eliminating most of the chances of backlashing and line tangling.
The 4+1 high-quality ball bearings may seem less, but as long as the ball bearings are of how you can't question quality, their durability, and performance. To assure you even further, Ghosthorn also provides a one-year warranty.
The spinning reel has a uniquely designed knob. The point-shaped knob is reasonably easy to operate. The gear ratio of 5.1:1 may seem a bit low for bass fishing, but it does the job reasonably well and is surprisingly very smooth; it goes well with the knob, which is pretty simple to use.
Pros
1. No line slippage
2. User-friendly knob design
3. Reasonable price
4. Easy to use

Cons
1. A lot of plastic material which is not very durable
PLUSINNO BE2000: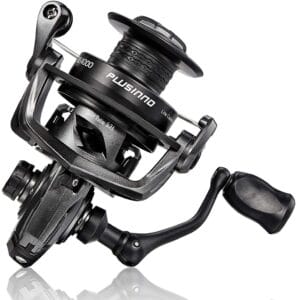 Features:
Max Drag: 15.4 Lbs.
Gear ratio: 5.7:1
Ball Bearings: 9+1
It weighs about 9.3 oz.
Collapsible handle
Sturdy Graphite body
The PLUSINNO BE2000 spinning reel is very sturdy and robust. Its plastic and graphite body are some of the most powerful and durable we've seen so far in this list. The all-grey frame suits most of the fishing rods. In addition, it has a CNC aluminum collapsible handle; this provides extra security for the spinning reel and secures the handle when you collapse it.
The flat rubber grip does seem a bit low quality, it does the job, but it's not comfortable during prolonged hour usage. On the other hand, it weighs around 9.3 oz., an average of all the spinning reels we've seen so far. So as far as its weight is concerned, you won't tire out from carrying it at all.
The max drag capacity is a little bit of a concern on the PLUSINNO BE2000. Their BE2000 size model can only muster to drag in about 15.4 lbs. This means that it might be a little tough to reel in largemouth bass, weighing around 13-15 Lbs. However, smallmouth bass and other species of bass will be pretty easy to handle.
The 9+1 ball bearing is the focal reason behind the smooth and silent operation of the PLUSINNO BE2000 while casting and retrieving the bait. The spool is smartly assembled and produces fantastic sharp clicking sounds, which we thought were much better than the other spinning reels.
The gear ratio of 5.7:1 is almost perfect for bass fishing; with some practice, it will be pretty simple to handle and reel in the bass while fishing with your PLUSINNO BE2000 spinning reel. The combined precise pinion gear system also enhances the performance of the gear mechanics in this spinning reel.
Pros
1. Simple and nice design
2. A collapsible handle increases safety
3. Secure and solid build provides durability
4. Satisfying clicking sounds

Cons
1. Low drag capacity
Sougayilang Colorful SC Series For Striped Bass Spinning Reel: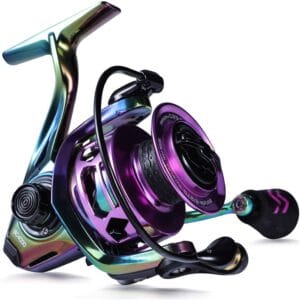 Features:
Max Drag: 39 lbs.
Gear ratio: 6.0:1
Weight: 8.1 oz.
12+1 Ball bearings
CNC Aluminum handles
Water-resistant
Pearlescent body look
The Sougayilang SC series is the most eye-catching top bass spinning reels. Why is it eye-catching? Well, its water-resistant graphite body is covered with a purple pearlescent color. Pearlescent colors are livelier, and the color shifts are sure to make you stand out among the rest of the fishers.
The Sougayilang SC series has some intelligent and impressive features, which we will review one by one. The featherweight spinning reel is well built and strong, and the CNC aluminum handles are perfectly designed to offer the utmost experience for the user. The handles, which have been slightly underwhelming with the last reels, are perfect on the Sougayilang SC series. It has top-quality super polymer handles that are highly comfortable and slip-resistant.
Sougayilang SC series exceeds the last spinning reels that we reviewed in max drag capacity. A max drag capacity of 39 lbs. will make you enjoy bass fishing in utter simplicity. There will be no fear of line breaking and snapping. Thanks to the excellent drag system feature Sougayilang SC series has one of the best drag capacity ranges.
Staying on a high note, the Sougayilang SC series provides the perfect gear ratio of 6.0:1, optimal for bass fishing. This gear ratio will allow buttery reels and casts. In addition, the Sougayilang SC series has a 12+1 ball bearing installed, which is quite a lot, in all honesty. The high amount of ball bearings does a great job in reducing friction and providing a calm experience.
Sougayilang SC series is a great option to consider, thanks to some of its intelligent features and its sealed drag system, which makes it water-resistant. This is a perfect spinning reel for a family fishing day.
Pros
1. Water-resistant
2. Impressive drag capacity
3. Eye-catching color
4. Easy to use a gear ratio

Cons
1. Creates annoying grinding sound while reeling
RUNCL Spinning Reel Titan II 3000 – Bass Spinning reel: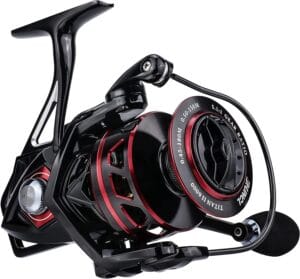 Features:
Max Drag: 33 lbs.
Gear Ratio: 5.3:1
Ball-bearing: 9+1
Weight: 9.2 oz.
Braid-ready spool
RUNCL Entire shield system
RUNCL Spinning Reel Titan II 3000 is one of the best average spinning reels you can get if you're a beginner or if you want something decent and easy to use. The futuristic black and red designed body looks astonishing. The body is sturdy and solid while being lightweight as well.
When it comes to resistance and sturdiness, nothing beats the RUNCL Spinning Reel Titan II 3000; it has a RUNCL entire shield system (R.E.S.S) and a phosphating coating which secures the reel from various kinds of substances. The R.E.S.S keeps water, dirt, debris, and sand.
The braid-ready spool allows simple line application and is highly suitable for beginners. Just like we saw an excellent max drag capacity from the Sougayilang SC series, the RUNCL Spinning Reel Titan II 3000 doesn't disappoint in that department. You can effectively drag around 33 lbs. of weight with this spinning reel which is more than enough for a bass.
The gear ratio is a bit lower than the optimal gear ratio for bass, but this does not mean that a 5.3:1 gear ratio is terrible by any means. The 9+1 stainless steel ball bearings supply smooth, silky operation. Since the body is covered with a safety shield system, the ball bearings will not deteriorate as fast as they do when dust and water can reach them.
In conclusion, the RUNCL Spinning Reel Titan II 3000 is an excellent choice for casual and newbie fishermen. Even if you're experienced, it's still a great pick from this list. You won't get these innovative top-tier features in this price range.
Pros
1. Effectively resists dust and water
2. Sturdy, long-lasting body
3. Amazing drag capacity
4. Lightweight

Cons
• The handle design is a bit clunky
Abu Garcia Revo SX – Bass Reel: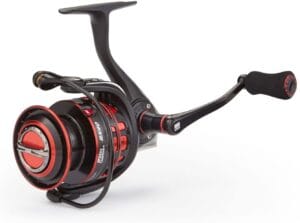 Features:
Max Drag: 11 lbs.
Weight: 7.9 oz.
8+1 ball bearings
Gear ratio: 6.2:1
Carbon matrix Hybrid Drag mechanism
Computer-optimized gear design
All the fishermen are aware of how big Abu Garcia is when it comes to reels. Their Revo SX spinning reel was a must mention on this list of the best spinning reel for bass. The black and red frame never fails to look good. Aluminum, graphite, and stainless steel are the only materials used to make the body. The Revo SX is by far the lightest in weight, which is 7.9 oz. You won't feel a thing on your fishing rod; it's that light and small.
The body is simply designed and is very user-friendly. The EVA handle feels exceptionally smooth on the hand. An excellent solid gear ratio of 6.2:1 makes the gearing experience much better during bass fishing. In addition, Abu Garcia has installed a computer-optimized gear design which dramatically enhances the gear mechanics in this reel.
The max drag rate, however, is a bit underwhelming. The Revo SX can only drag in about 11 lbs. The drag capacity will make it hard to reel in any largemouth bass or any other medium-sized fish. Just like its size, this spinning reel is suitable for lightweight fish. However, their carbon matrix hybrid drag system is one of the most efficient drag systems we've seen.
8+1 stainless steel ball bearings work fantastically. Abu Garcia never fails in silent and smooth reels. The case is the same with the Revo SX, all you need to do is keep it clean and maintained, and it'll give you the smoothest experience ever.
Abu Garcia Revo SX is a fantastic choice for minimalistic reels. The brand offers some good sturdy reels and a great fishing experience.
Pros
1. Extremely lightweight
2. Silky fishing experience
3. Comfortable
4. Top-quality handle

Cons
1. Low max drag capacity
2. Little costly as compared to the other

Daiwa Fuego LT – Daiwa Spinning Reel: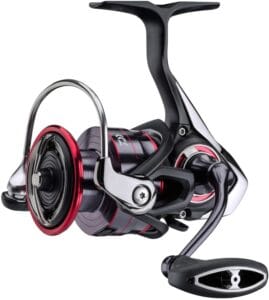 Features:
Max drag: 22 lbs.
Weight: 7.6 oz.
Gear ratio: 5.3:1
Ball bearings: 6+1
Air rotor design
Aluminum screw-in handle
Daiwa Fuego LT picks up exactly where Abu Garcia Revo SX left off due to its similar lightweight body. Daiwa is another well-reputed brand in this fishing equipment industry. They are respected and have good loyal customers thanks to their sturdy reels.
The body is Magsealed which, according to Daiwa, means that it is safe from any water and dust getting inside the reel. As we mentioned before, the body is lightweight, weighs only 7.6 oz., and easy to use. The reason behind this is to allow the user to fish for long hours without tiring their arms. In addition, air rotor design eliminates 15% of the weight over basic rotor design.
A unique part about the Daiwa Fuego LT is its aluminum screw-in handle. The handles are flat and wide and not rounded, which is the usual shape. Even though the knob is designed differently, it is still pretty simple to use comfortably and perfectly with its 5.3:1 gearing ratio.
The max drag capacity of 22 lbs. is perfect for bass fishing. Under this weight, you can catch all kinds of bass without any hindrances. As we've mentioned before, largemouth bass can weigh up to 15 lbs, so a drag cap of 22 lbs is more than enough.
6+1 ball bearings are sufficient and supply a smooth, silky experience while you fish for bass in a lake nearby. Daiwa Fuego LT is a nicely built sturdy but lightweight spinning reel you can get to better your bass fishing game.
Pros
1. Great
for saltwater fishing
2. Gives smooth experience
3. Amazing handle
4. Reasonable max drag rate for bass fishing
Cons
1. Poor line laying system
Pflueger President Spinning Reel: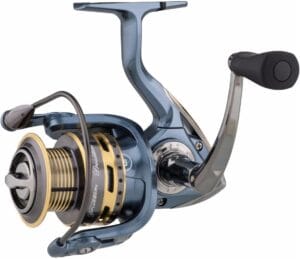 Features:
Max Drag: 10 lbs.
Weight: 8.8 oz.
Ball bearings: 10
Gear ratio: 5.2:1
HT 100 Carbon fiber drag system
Braid ready spool
Pflueger President spinning reel is a compact and royal-looking spinning reel. However, following the root of its name as 'President,' the reel does look elite as its graphite body is covered with metallic blue and gold color.
The graphite body is averagely weighted, which is still considered lightweight, but not as light as the likes of Abu Garcia Revo SX. The reel is braid-ready out of the box; this means that applying the line around the spool will be easier to do. Pflueger President's spinning reel has a simple essential EVA knob grip.
The max drag is surprisingly low; it can only drag in , which will only let you reel in small-sized fish safely. Medium-sized fish or largemouth bass is no go on this reel, but if you're a beginner and want to start from somewhere, then this is a good choice. However, their HT 100 carbon fiber drag system does a fantastic job of pulling on the weight towards you with utter simplicity.
The ball bearings are superb on this spinning reel. The high amount of ball bearings allows regular, frictionless fishing sessions without any jittering or unnecessary friction.
The gear ratio of 5.2:1 has become quite common on this list now. The gearing ratio is nicely between the two extremes; therefore, many spinning reel companies tend to go with them. It's not super sensitive but neither rigid, which is excellent for most fishers.
Pros
1. Elite design
2. Uncomplicated braid ready spool
3. Super effective ball bearings
4. Great for beginners

Cons
1. Low drag capacity
Cadence CS5 4000 Spinning Reel: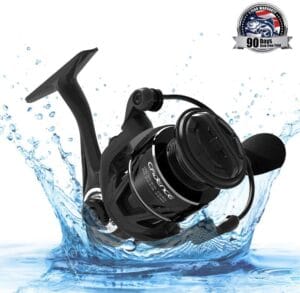 Features:
Max Drag: 36 lbs.
Weight: 9.5 oz.
Gear ratio: 6.2:1
8+1 ball bearings
Oversized smart EVA handle
Metal handle arm
Cadence CS5 is one of the best spinning reels on this list of the best spinning reel for bass. But, first, we will review their '4000' model size, which is the largest size available on the Cadence CS5 series.
The frame and side plates are made out of composite carbon, making the spinning reel sturdy and lightweight. Plus, this built material also keeps the spinning reel corrosion resistant. It has a metal handle arm that is safe and solid with an oversized EVA handle which allows comfortable gripped control over the spool and reel.
With their big EVA handle, you can operate at an optimal gear ratio of 6.2:1, which is a nicely balanced gear ratio and great for catching bass.
Ball bearings of 8+1, made out of stainless steel, give a non-interrupting reel experience no matter how big the fish is at the end of your hook. In addition, the ball bearings are very durable and resistant to corrosion. As a result, you can safely use the reel in saltwater or freshwater.
The Cadence CS5 doesn't stop here with its impressive features; it can easily drag in 36 lbs. as long as the line is strong. As far as bass fishing is concerned, the drag rate is more than enough for an angler.
Pros
1. Great handle; easy to grip
2. High Drag capacity
3. Suitable gearing ratio for bass fishing
4. Long-lasting build

Cons
1. Unnecessary click noises
Akataka 3000 Model Spinning Reel: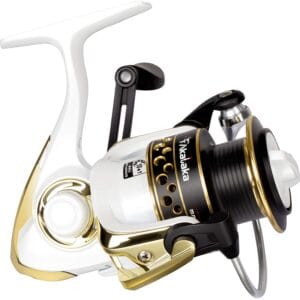 Features:
Max drag: 17.64 lbs.
Weight: 9.25 oz.
Ball bearings: 10+1
Gear ratio: 5.1:1
Left or right interchangeable handle
Anti-twist line roller
The last spinning reel to make it onto our list is the Akataka 3000. This is another top-notch spinning reel with some unique intelligent features you could bag at a reasonable price. It has a royal feel to it, primarily due to its color combination of gold and white.
According to its stats and features, the weight of this spinning reel is a bit higher than the rest, but it's still very low weighted and wouldn't tire you out. This royal-looking spinning reel has an interchangeable handle, and this allows you to simply detach and attach the handle on either right or left of the reel, depending on your dominant side.
The anti-twist line roller with the braid-ready spool is perfectly optimized for line management and spread, significantly decreasing the chances of backlash and tangles.
The 10+1 accurate stainless-steel bearings offer a fantastic experience like no other. Paired with the smart line roller, you'll be able to reel in smooth and silkily without any bumps or friction along the way. Like we mentioned before, ball bearings quantity only matters when they are made from high-quality material.
The drag rate sits right at the edge of a largemouth bass weight. It can pull in 17.64 lbs. which is optimal for bass fishing, making this spinning reel one of the best for the job, with a gear ratio of 5.1:1, which will help reel in medium-weighted fish smoothly without unnecessary sensitivity.
Pros
1. Ergonomic handle
2. Smart line management designs
3. Perfect for bass fishing
4. Easy to switch handles

Buying Guide for Good Spinning Reels for Bass
Before making your final verdict on which spinning reel to buy, it is recommended that you through these factors first;
Max Drag:
Max drag rate is the total weight a spinning reel can pull towards you after catching a fish. The higher it is, the bigger the fish you can catch. Bass is usually around 10lbs, and the largemouth can reach up to 15 lbs., so anything above 16-17 lbs. of max drag rate should be good enough for bass fishing.
Gear Ratio:
The gear ratio indicates the number of times a spool spins when the handle is rotated. The higher the ratio is, the more sensitive the reeling will be, requiring a good set of skills. For bass fishing, the 6.0:1 gear ratio is perfect.
Bearings:
Ball bearings are situated inside the reel and the spool. Their primary task is to reduce friction and enhance smoothness while casting and reeling. So, it's utterly important to make sure that the ball bearings are of high-quality material and that they won't wear out.
Resistance:
Since spinning reels are used in or around water bodies, it's safer if a reel resists water or dust. This will considerably better its performance in the long run and ensure the reel's sturdiness and durability. So, it is suggested to look out for corrosion, water, and dust-resistant reels.
Summary and Our Top Picks:
The first of our favorite picks has to be the Cadence CS5 for its overall features. It easily tops all the departments when it comes to a spinning reel. All the elements, from great max drag rate, nicely sized handle, excellent gearing ratio to smooth ball bearings line up, surely make it one of the best spinning reel for fishing.
Our second pick is solely based on bass fishing. So in terms of that, our second top pick has to be the Akataka 3000 model. The features and simplicity of the design are meant for bass fishing, and it is also remarkable for new fishers looking to try out a new hobby.
With that, we conclude our immensely detailed review of various best spinning reel for bass. Now you've gone through the intrusive yet straightforward guides and honest reviews, you can pick what's best for you and drive down to your nearest lake or river and enjoy your day while having a calm and therapeutic bass fishing session.
FAQ's for Best Spinning Reel for Bass
How to maintain your spinning reel?
By following some simple steps, you can easily clean and maintain your spinning reel. You can use a small cloth with spray oil to clean up the body to remove dust and debris. Lubricating your handle and knob and the spool is also an important step to maintain your spinning reel.
How often should I oil my spinning reel?
The answer to this question is dependent on the usage of the reel. If you use it regularly, then it is advised to oil it every other day. Whereas if it is rarely used, then lubricating it every month should be fine.
What are the different types of fishing reels?
There are four types of fishing reels that are most commonly used. These four fishing reels are; Spinning, Baitcasting, Spincast, and Fly reels.
Is spinning reel good for bass?
Yes, a lot of fishers still use spinning reels for bass. This is because of its ease of use and simplicity. Therefore, spinning reels are a good pick for bass fishing.